5 Things You Need To Know Today in Framingham: Wednesday, January 16, 2019
1 Tonight the Framingham Special Education Parents Advisory Council will host a workshop for parents from 7 to 9 p.m.
F-SEPAC, in conjunction with the Federation for Children with Special Needs, will present a free Basic Rights in Special Education workshop.
Workshop topics include:
– Individuals with Disabilities Education Act Massachusetts Laws
– Evaluations and Referrals
– The Team Meeting
– Individualized Education Program (IEP) and 504 Plans
– Effective Progress
– Transition, Review of Important Timelines
– Strategies for Success and more
2. FLYERS in action:
Girls ice hockey host Weymouth High at 4 p.m. at Loring
Boys ice hockey travels to Connell Memorial Rink for a game against the Wildcats of Weymouth High at 8 p.m.
Wrestling team has a match against the Wildcats at Weymouth High at 7 p.m.
Both the Framingham High boys and girls basketball teams won last night
Boys swim & dive team suffered its first loss of the season, losing in the final relay.
Gymnastics team won its home opener, to remain undefeated at 2-0.
3. Plan ahead: There is a Downtown Framingham Inc board meeting tomorrow, January 17 at City Hall at 8 a.m.
4. According to Mayor's public calendar  on the City of Framingham's website, Mayor Yvonne Spicer will attend the swearing in ceremonies today for the state treasurer, the state auditor, and the state attorney general in Boston.
The mayor is then expected to attend the School Committee meeting tonight at the Memorial Building.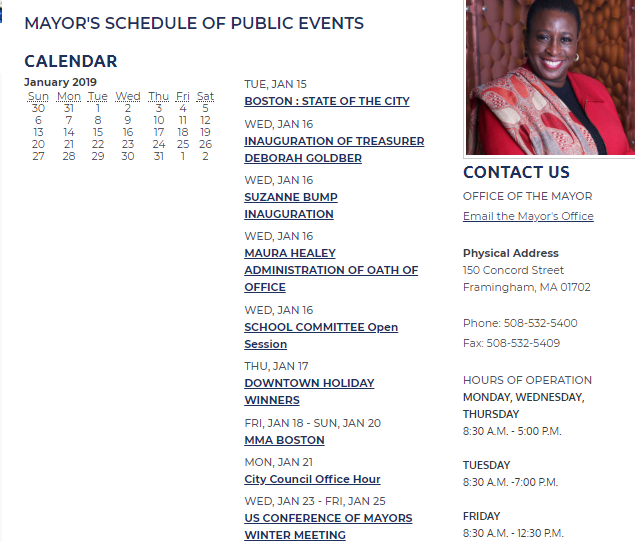 5. CITY of FRAMINGHAM meetings:
Framingham School Committee is scheduled to meet at 7 p.m. in the Blumer room at the Memorial Building
Framingham Conservation Commission is scheduled to meet at 7 in the Ablondi room in the Memorial Building
Framingham EDIC is scheduled to meet at 7 in the Memorial Building.