5 Things You Need To Know Today in Framingham: Tuesday, January 15, 2019
1 FLYERS in action:
Girls basketball will host the Wildcats of Weymouth High at 6;30 p.m.
Boys basketball travels to Weymouth for a 6;30 p.m. tip-off
Boys Swim & dive travels to Babson College for a meet against the Rockets at 7 p.m.
Gymnastics team has its first home meet in Holliston tonight at 7.
2. Exhibit A Brewing Company is hosting a Keg Talk tonight. Tickets required. Taste beer with your eyes closed! In this talk, attendees will cover the principles and techniques of beer sensory analysis. Th talk will cover common terms and explore typical aromas and flavors that you'll find in beer, even the bad ones! And then attendees will put that knowledge to test as they taste beers blind and use all of our senses to figure out what they are drinking. Click here for more details.
3. Framingham woman appeared on Jeopardy last night. Click here to read how she did.
4. According to Mayor's public calendar  on the City of Framingham's website, Mayor Yvonne Spicer is attending the the State of the City address for Boston Mayor Marty Walsh tonight at Symphony Hall.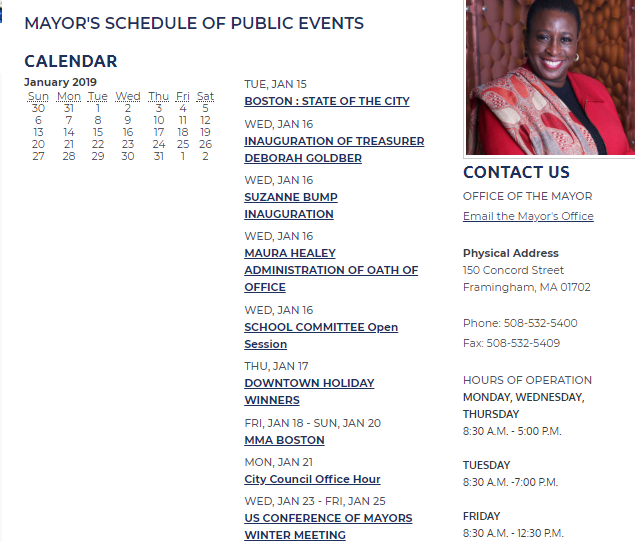 5. CITY of FRAMINGHAM meetings:
Framingham City Council is scheduled to meet at 7 p.m. in the Blumer room in the Memorial Building
Framingham Cable Advisory Committee has a meeting at 7 p.m. in the Memorial Building
Framingham Fair Housing Committee has a meeting at 7 in the Memorial Building