UPDATED: 5 Things You Need To Know Today in Framingham: Thursday, October 11
1 Mayor Yvonne Spicer will hold a public hearing tonight at 7 in the Memorial Building to listen to the public about a proposed increase in the City of Framingham's sewer rate. The increase is proposed at 2 percent.
Last month, the Mayor increased water rates by 2 percent.
2. The City of Framingham will hold a neighborhood meeting on the Worcester Road Pump Station elimination project tonight. The meeting will be held at 6:30 in the auditorium of Fuller Middle School, 31 Flagg Drive.
City staff and consultants will provide a project update, and seek feedback on the proposed utility improvements in the area of Main Street and Walnut Street, including the construction of a new wastewater pump station on Walnut Street.
3. FLYERS in action, weather permitting:
POSTPONED – Framingham High golf team will travel to Braintree for a 3 p.m. match
POSTPONED – Due to weather — Co-ed field hockey team will travel to Wellesley for a 3;45 p.m. game against the Raiders
POSTPONED – Girls soccer will host Wellesley at 3:45 p.m. at the high school
Girls volleyball will host Wellesley for a 5 p.m. match at Framingham High
POSTPONED – Boys soccer will Wellesley at 6:30.m. at Bowditch field. Junior varsity scheduled to play at Bowditch at 5 p.m.
4. City of Framingham meetings:
Framingham Planning Board scheduled to meet at 7 p.m. in the Ablondi room in the Memorial Buulding
Framingham Human Relations Commission scheduled to meet at 7 in the Memorial Building
Framingham Fair Housing Committee to meet at 7 p.m. in room B3 in the Memorial Building.
Team Framingham Committee to meet in executive conference room in the Memorial Building at 7 tonight.
Framingham Police Advisory Committee to hold its first meeting tonight at 7 in the Memorial Building.
Mayor Spicer to hold a public hearing tonight at 7 in the Blumer room in the Memorial Building on a proposed sewer rate increase.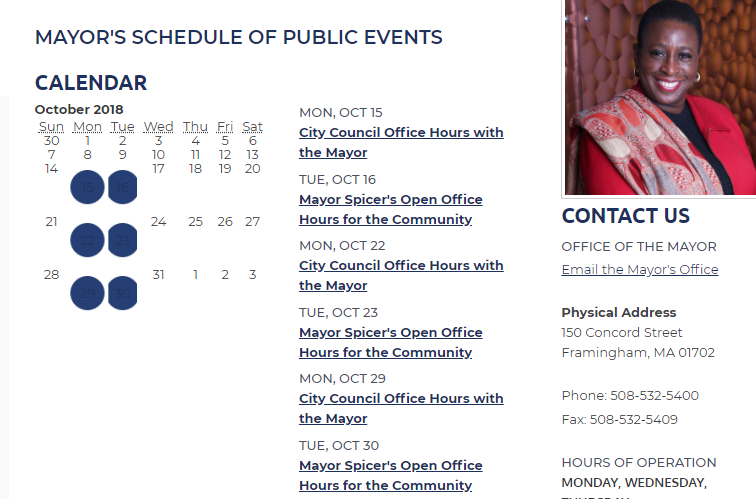 According to Mayor's public calendar (pictured above) on the City of Framingham's website, Mayor Yvonne Spicer has no public events today, however she is expected to preside over the sewer rate public hearing tonight, just like she presided over the water rate hearing last month.
5. Northeastern University lecturer Annabel Dodd of Framingham will present the essential guide to streaming tonight at the main Framingham Library from 7 to 8 p.m. Dodd is the author of The Essential Guide to Telecommunications, 6th Edition. She will provide insights on streaming, enabling technologies and the impact on the industry. Streaming has had an enormous impact on the film industry and users' viewing habits. The event is free and open to the public.
BONUS: SKYBOKX 109 Sports Bar & Grill in Natick will host its 5th Annual Craftacular Beer Tasting tonight from 5:30 to 8 p.m. Great 21+ event features beer samples and appetizers. Tickets available at the door at $30.