UPDATED: 5 Things You Need To Know Today in Framingham: Tuesday, October 2
1  Framingham Library's popular book buddy program is tonight. Improve your reading skills the fun way by reading aloud to your new Book Buddy. Certified Reading/Therapy Dogs Eloise, Montana, and Lilah listen as children read aloud from a book of their choice. There is an hour time slot tonight from 6 to 7 p.m. at the main Framingham Library. Reading takes place in the Children's Program Room. All ages are welcome! Registration is required. Please call 508-532-5570 x4 or drop by to sign up for a 15 minute slot.
2  City of FRAMINGHAM meetings:
Framingham City Council is scheduled to meet at 7 p.m. in the Blumer room in the Memorial Building.
Framingham Historical Commission is scheduled to meet at 7;30 p.m. in Conference room 2 in the Memorial Building. On the agenda is a public hearing 7:30  for 1013 Worcester Road (Jonathan Maynard Historic District)  for a door replacement. Also on the agenda is a proposed local historic district for 613 Pleasant Street and in Saxonville.
3. FLYERS in action:
Framingham High golf team has an away match against Walpole High at 3:30 p.m.
Framingham High girls soccer team travels to Brookline for a 4 p.m. game against the Warriors.
Boys soccer team hosts Brookline High at 4:30 p.m.
Girls volleyball hosts Brookline High
4  Framingham Community & Economic Development department will hold a community open house about the Golden Triangle neighborhood at the MetroWest YMCA today at 4 p.m. Click here for more details.
5. UPDATED – at 3:15 p.m. Mayor cancelled her hour with the public.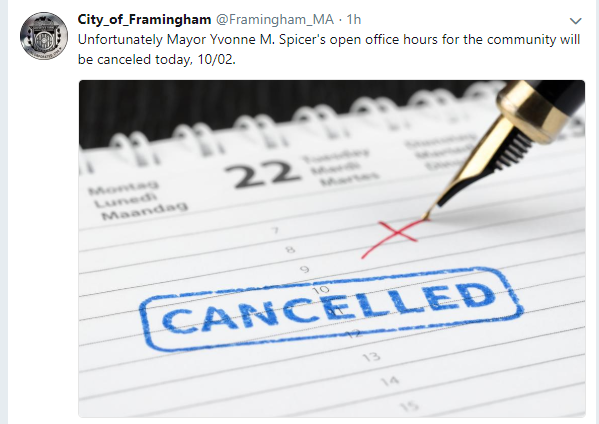 According to Mayor's public calendar on the City of Framingham's website, Mayor Yvonne Spicer will hold an office hour from 5 to 6 p.m. today and meet with the public in the Memorial Building.