Paul Reddy, 86, Taught at Siena College, St. Bonaventure's University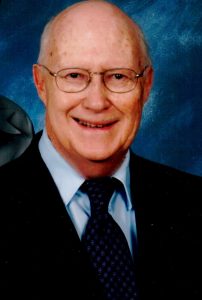 FRAMINGHAM – Paul Lawrence Reddy, Sr., 86, a former resident of Framingham for 25 years, died peacefully on August 13, 2018, in the presence of family.
He was born on Staten Island on August 29, 1931, the son of Raymond and Edith (Reardon).
Paul was a teacher of philosophy & history, and taught at St. Bonaventure's University.
He held three degrees including a Master's in Religious Education from Catholic University, Washington DC, where he completed the coursework for a Ph.D. He taught theology at Siena College and was also Dean of Men.
Upon relocating to Massachusetts, he became a professional licensor for the Dept. of Mental Health and spent 25 years in service to the Commonwealth.
As a 25-year parishioner of St. Bridget's Church, Paul was a devout Catholic who gave his time as a lector, Eucharistic Minister, teacher in the RCIA program, "Chauffeur a Parishioner," taught CCD, and was President of the Legion of Mary. Paul always lived his life, as he would put it, as "a Franciscan at heart".
Paul was also a dedicated father and family man who enjoyed summers swimming and boating at Sebago Lake, was an avid reader and student of American history, theology and literature, and loved watching movies at the theater and cheering on the Red Sox with his family.
Paul is survived by his two sons, Paul Jr. and Liam, three brothers, Reginald, Robert and John, his niece Summer and nephew R. B., his niece Maura, and his former wife and best friend Constance and her husband James. He was predeceased by two brothers, David and Richard.
Family and friends will honor and remember Paul's life by gathering for visiting hours in the McCarthy, McKinney & Lawler Funeral Home, 11 Lincoln Street in Framingham on Monday, August 20 from 5to 8 p.m.
His Funeral Mass will be celebrated on Tuesday morning, in St. Bridget's Church, 830 Worcester Road in Framingham at 9 a.m.
Interment will be private.
In lieu of flowers, remembrances may be made to the "Help A Student Fund" at St. Bridget's School, addressed to St. Bridget's Rectory, 15 Wheeler Ave.,Framingham, MA 01702, or to the Friars at Holy Name Province, 129 West 31st St., NY, NY 10001, and online at www.hnp.org.
For directions and online tributes, kindly visit www.mccarthyfh.com