Magdalena (Krebs) Smith, 98, WWII Nurse, U.S. Army Historian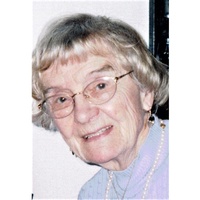 FRAMINGHAM – Magdalena R. (Krebs) Smith, 98, a longtime Framingham resident, died peacefully on Tuesday, May 9, at the Parlin Hospice Residence in Wayland.
Magdalena lived an extraordinary life.
She was born in Rothenbach, Germany, in 1919, to Felix and Paula Krebs.
Early in the Second World War, her brother was killed on the Eastern Front. She served as a nurse, tending to war victims.
After Germany's defeat in 1945, the family lost their home when Poland took over the border region, and she lost contact with her widowed mother for a year.
Soon after the war, she met an American soldier, Charles J. Smith, who had remained in Germany after wartime Army duty. He introduced himself after stumbling over her as she lay on the bank of the Danube River while swimming with friends.
After completing his military service and going home to Milford, Mass., he returned to Germany to propose; they were married in Heidelberg in July 1950. Magdalena and Charles then moved to Washington D.C., where he worked as a US Army historian. She became president of her Americanization School class for new immigrants and found work for an insurance company.
The couple returned to Massachusetts in 1956 to be nearer to his extended family and settled in the Framingham area. Magdalena's mother Paula left Germany to live with them. Magdalena rose to become an executive secretary at Raytheon Corp. She retired at 55, and always said her best years began then.
She became an avid tennis player, staying active in club tennis until the age of 85.
She loved bridge and travel, making exotic journeys to Tibet, South America, the Middle East, China and all over Europe. She was a committed gardener. But she was especially devoted to her late husband, to whom she was married for 56 years.
A devout Catholic, she lived in Carmel Terrace Assisted Living in Framingham for nearly a decade, enjoying history books on tape and daily newscasts. Until the day of her death, she always asked first about others in her life rather than focus on herself.
She is survived by her loving nephews, James F. Smith Jr. of Newton and his wife Maxine; Paul J. Smith of Norfolk and his wife Karen; and David C. Smith of Arlington and his partner, Reynell; grandnieces and grandnephews Michael, Matthew, Luke, Caitlin, Brendan, and Daniel; cousins Gudrun and Reiner Koch of Heidelberg, Germany; cousins including the Phillips family of Milford and Mary Helming of Somerville.
Family and friends are invited to attend a funeral Mass on Tuesday, May 22, at St. Bridget Church, 830 Worcester Road, in Framingham
Her ashes will then be buried with her husband and mother at St. Mary's Cemetery in Milford.
At the family request, there will be no visiting hours.
In lieu of flowers, donations may be made to Catholic Charities of Boston, 275 West Broadway, Boston, MA 02127.