Photo of the Day: Stewart Shopping at Shoppers World; Meeting With TJX
FRAMINGHAM – It's a good thing to go shopping at Shoppers World in Framingham and run into Martha Stewart. A least it was for Framingham resident Suzan Marshall, who said she always wanted to meet Stewart.
The lifestyle expert and celebrity was seen today, May 16 in Shoppers World at the TJX owned HomeSense.
Stewart was later at TJX headquarters in Framingham. There is a possibility that Stewart is working to get her line into TJX owned stores.
Framingham baker and entrepreneur Jacqui Goldberg made cupcakes for Stewart and her team.
"Each Martha Stewart representative (including Martha) received 6 cupcakes – 3 had the Martha Stewart logo made out of colored chocolate and 3 had buttercream roses," said Goldberg, who owns Cakes By J&J.
"It was an honor to have someone who has so much experience in the field of entertaining think that my cupcakes looked 'fantastic'! said Goldberg.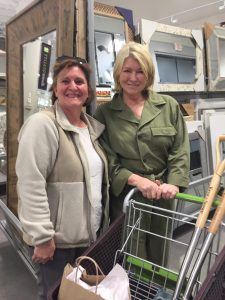 ***
Photo courtesy of Suzan Marshall
Reported updated at 12:37 a.m. May 17.