Natick Hosting Living Library Saturday; Framingham City Councilor Participating
NATICK – The Morse Institute Library will hosts a living library on Saturday April 14.
The event is from 10:30 a.m. to 2 p.m. Individuals can register for 15 minute blocks of conversation starting at 11 a.m.
A Living Library is based on the idea that every person has a story to tell. In this library, instead of borrowing books, you borrow people to engage in meaningful conversation, according to the Morse Institute Library.
"Each one of our "books" has a unique and interesting perspective, and a lot can be learned from sitting down with someone who has a different story to tell," states the Library on its website.
During a Living Library event, individuals can check out a "Living Book: to learn more about their lifestyle, ask them questions about what it is like to live in their shoes, and embrace the differences and similarities that make us all human.
A Living Library is a way for people to reach out and connect with individuals in their community that they might not normally engage with.
Visitors to a library have an opportunity during a planned event to borrow Living Books and to engage in conversation with the books.
Living Libraries promote tolerance, celebrate differences and encourage understanding of people who come from varied cultural or lifestyle backgrounds.
We hope that by sitting down with someone different from ourselves, we will learn what it is like to walk in another's shoes while gaining insight and perspective into our own lives and community, states the library on its website.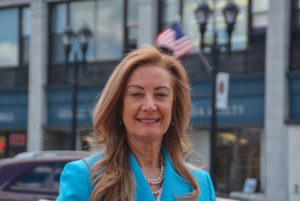 Framingham City Councilor Margareth Shepard will offer visitors a discussion on "Immigrants and the Power of Political Education"
She is  active member of the Massachusetts Brazilian Immigrant community; she has been assisting green card holders with Citizenship applications, young students with Deferred Action for Childhood Arrivals (DACA) applications, and promoting civil engagement. In 2016 Margareth co-founded the movement Brazilians for Political Education, which was created to help members of the Brazilian, and other communities, to learn how to be politically active and engaged. In 2017 she successfully ran for City Councilor in Framingham in District 7, becoming the first Brazilian American Citizen to be elected for a Government position in the United States.
CLICK HERE to read about the other Living Library participants.