Vote To Add 2 Women To Framingham History Hall of Fame; Daring Dozen Event March 25
FRAMINGHAM – On Sunday, March 25, the Framingham History Center will announce the two new inductees to the Women's Hall of Fame in celebration of Women's History Month.
In 2003, former Town Historian created a list of Framingham women he believed should be recognized as part of a hypothetical Women's Hall of Fame.
He chose 10 great women from Framingham's 300 years of existence whom he felt had "great talent, ability, and strength."
These women included: Mary Eames, Sarah Clayes, Lydia Learned, Hannah Nixon, Mary Eames Rice, Margaret Knight, Louise Mayo, Meta Warrick Fuller, Dr. Miriam Van Waters and Christa McAuliffe.
On March 25, the addition of two new women will bring the list to twelve, making it a "Daring Dozen" of noteworthy women.
There are 11 women currently nominated to join the Women's Hall of Fame. Individuals can vote for said nominees by using the following link: https://doodle.com/poll/qkfcgz4c75677yr9
Voting will close on Friday, March 16.
The "Daring Dozen" event will take place in Scott Hall of First Parish Framingham.
To reserve tickets, individuals can visit the Framingham History Website or by mailing a check to FHC P.O. Box 2032, Framingham, MA, 01703. Space is limited.
Brief bios for the nominees can be found below.
Theo Alice Ruggles Kitson (1871-1932)
As a young girl, Theo Alice proved she would be a prominent sculptress. When she was 14, she created a large snow sculpture in the door-yard of her Brookline home titled "Reclining Horse" that brought crowds of visitors from Boston in 1885.
A year later, she was placed under the instruction of the sculptor Henry Hudson Kitson (her future husband). They worked together on many projects.
In February 1900, a committee consisting of representatives from the Town of Framingham and the Framingham Chapter of the Daughters of the American Revolution commissioned Henry and Theo Alice Kitson to make a bronze minuteman memorial to the Revolutionary War soldiers of Framingham.
Mr. Kitson designed the Framingham minuteman, and Mrs. Kitson executed it. Her name is on the sculpture. Not long after the sculpture was complete, Henry and Theo Alice separated and she lived on in Framingham until her death in 1932.
Josephine Collins, Suffragette (1879-1960)
An excerpt written by Josephine's great niece, Carol Kane, "On February 24, 1919, Aunt Jo was part of a demonstration in Boston picketing President Woodrow Wilson, who stopped in Boston after returning from the Peace Conference in Europe. She was arrested and sentenced to eight days in The Charles Street Jail. She gave her name as Jane Doe, as did all the women who were arrested. Josephine joined the others in a hunger strike. After a few days she was released due to someone who anonymously provided her bail. The anonymous person was one of her brothers. Josephine was not happy being released. She was recognized for her efforts by receiving the 'Jailed For Freedom' pin from the National Woman's Party. "
Aside from her involvement in the suffrage movement, Josephine was a successful businesswoman in her own right. She opened up a Tea Room on the corner of Pleasant Street and Belknap Road; a dry goods shop; and her own Periodical's Shop in South Framingham's Esty Building. In her later years, Josephine worked as a bookkeeper for Babson College.
Barbara E. Gray (1926-2014)
Barbara was a Massachusetts legislator for 24 years beginning in 1972. She established the first seat belt laws and was an advocate for environmental protection, no-fault divorce laws, anti-discrimination, and fought against domestic violence.
"We met in the Massachusetts State Legislature in 1972, a bastion of white male Irish and Italian politicians. Every one of us had our consciousness raised like an elevator by Barbara Gray, and we are better men for it!"
– Senator Edward Markey from the back cover of A Woman's Ways and Meansby Barbara                     Gray
Barbara also served 11 years on the Framingham Planning Board and lived in Framingham for most of her adult life.
Margaret Pearmain Welch (1893-1984)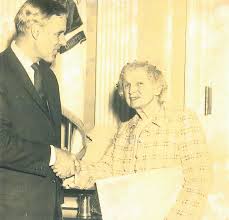 Margaret and her friend Penelope (see below) are best known for co-founding Stearns Farm in 1954 as well as co-founding the Framingham Friends Meeting in 1979.
Margaret, grew up on Beacon Hill and as a child spent summers in the Pearmain House on Wayside Inn Road in Framingham. She eventually settled in Framingham and lived in the historic Thomas Nixon House. She left a tremendous legacy locally when she donated Stearns Farm and a larger 87.1 acre Welch Reservation to the Sudbury Valley Trustees.
Penelope Turton (1912-1998)
Penelope, originally from England, worked for the British Red Cross during World War II. After the war, she came to the US for a planned six-month sabbatical, but she stayed and became a US citizen. Penelope operated Stearns Farm for 40 years and taught many young (and older) people how to garden organically—and properly.
Dr. Mary E. Stapleton (1907-1999)
Mary E Stapleton was born in Framingham in 1907 and resided in Saxonville until her death at the age of 92. She began her teaching career at the Woodrow Wilson School where she later became the principal. In the 1950s, she was the principal at the Jonathan Maynard School as well as a Senior Instructor at Framingham State College (now FSU). The Saxonville School, built in the 1920's, expanded in 1980 and renamed for the local educator and principal Mary E. Stapleton.
Dr. Mary E. Murphy (1927-2014)
Mary moved to Framingham in1952 with her husband Philip J. Murphy where they raised a family and became active in local and national politics.
Mary was a tireless advocate for her community and for Democratic causes. She taught English at Framingham State University from 1962-2002 where she was also President of the Teachers Union. She was a mentor not only to her students, but also to those who chose to follow her into the political realm. She was a Framingham Town Meeting member, served on the School Committee, was President of the Framingham Historical Society, and was active in the League of Women Voters and the Democratic Town Committee. She was a Democratic Presidential delegate in Chicago (1968), San Francisco (1980), and New York (1984).
Edna Dean Proctor (1827-1923)
Edna Dean Proctor, poetess born in Henniker, NH, first came to Framingham in 1842 when her mother, Lucinda Gould Proctor, married her second husband, Joseph Thompson.  Her sister married Charles Coolidge of Framingham and had also settled here.
Edna lived in Framingham from 1884 until her death in 1923.  She lived in Framingham longer than anywhere else – longer even than her 30 years in Brooklyn.
While here, Edna wrote the poem "Framingham" in 1900 for the town's Bi-Centennial.
She never married.  She was known all her life as a Daughter of New Hampshire, romantic wanderer, poet, author, journalist, Citizen of the World. At her death she left a large estate to her family and endowments and scholarships to New Hampshire residents.
Debby Blumer (1941-2006)
A graduate of Framingham State College, Debby was a State Representative for Framingham for 3 terms. While in the House, she served on the Joint Committee on Higher Education, the Joint Committee on Children and Families, and the Joint Committee on Public Health. "Debby was an advocate for those who could not advocate for themselves."
Debby was a huge champion of Framingham's educational needs. In 2000, she worked to address current educational funding formulas and secured funds for after-school programs. She was actively involved in the reopening of Cameron Middle School to address the growing population.
When Debby suddenly died of a heart attack at age 64, the funds that remained in her campaign account were put towards The Representative Debby Blumer Scholarship. Each year $2,500 is awarded to a FHS immigrant senior who has demonstrated a strong commitment to social justice and community service. Debby's legacy lives on in so many ways.  A hearing room in the Memorial Building was dedicated in honor of State Representative Deborah Blumer in 2007. Blumer served as the board chairman of the MetroWest Community Health Care Foundation, and upon her death the foundation established Debby Blumer Health Leadership Award. The Massachusetts Women's Political Caucus established a summer internship in her honor for college juniors and seniors, sponsored by Harvard Pilgrim Health Care. She has also received posthumous honors from the Danforth Museum, the Jewish Alliance for Law and Social Action, and the ALS Association, which raises money to find a cure for Lou Gehrig's disease.
Carol J. Getchell (1939-2001)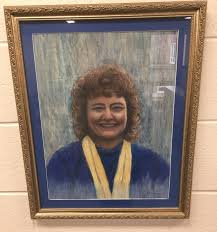 Founder of "The Friends of Saxonville" and a member of the Framingham Historical Society, Carol J. Getchell was a very beloved member of the Framingham community. She is best known as the Principal of Stapleton Elementary for 27 years – from 1971 through her retirement in 1998.
In the fall of 2001, the Carol J. Getchell Nature Trail was constructed by the Friends of Saxonville in her memory. The trail runs for one mile alongside the Sudbury River in Saxonville, beginning next to the Danforth Street Bridge and ending at Little Farms Road.
Dr. Jean Avery (1918-2005)
Jean was one of the first female physicians in Framingham. She had a practice on Union Avenue and was a member of the medical staff at MetroWest Medical Center, known then as Framingham Union Hospital. She was an obstetrician as well as a pediatrician and delivered the children and even some grandchildren of her first patients.