UPDATED: 5 Things You Need To Know Today in Framingham: Tuesday, March 6
1  Framingham Public School students have an art exhibit at the main Framingham Public Library starting today March 6.
UPDATE: The reception on March 7 has been cancelled due to the pending snowstorm.
2. Congresswoman Katherine Clark's office is holding office hours today from 9 a.m. to noon to help those with immigration and travel issues.
3.   Framingham Mayor Yvonne Spicer will be attending the MetroWest Health Foundation task force meeting on emotional health and substance abuse at 12:30 p.m. today.Class of 219Framingham City CouncilFraminham City
4. CITY of FRAMINGHAM meetings:
Framingham City Council is scheduled to meet tonight at 7 in the Blumer room in the Memorial Building.
Framingham EDIC will hold a meeting tonight at 7 in the Memorial Building.
5. Framingham High Class of 2019 is holding a fundraiser at Bertucci's on Route 9 today. If you present the coupon below, the junior class will get 25% of the proceeds of your order.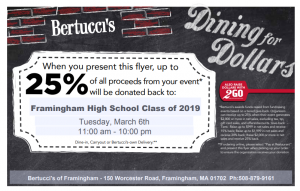 Editor's Note: In full transparency, my daughter is a member of the Class of 2019. Source publishes school fundraisers in the 5 Things column, when schools submit at editor@FraminghamSource.com. The class president for 2019 submitted this to Source.