5 Things You Need To Know Today in Framingham: Thursday, March 1
1  Framingham Mayor Yvonne Spicer appeared on WBZ-TV last night as part of a Black History Month segment. She is the first African-American woman elected Mayor in Massachusetts.
Today the Mayor is being interviewed by Chronicle, a TV magazine show on WCVB-TV
2. FLYERS in action:
3.   City of Framingham meetings:
Framingham Planning Board will hold a public hearing on transfer development rights tonight at 7 in the Memorial Building.
Framingham Veterans Council is scheduled to meet at 5:15 p.m. today
Framingham Board of Health is scheduled to meet at 7 p.m. tonight in the Memorial Building
4.  Uno's in Framingham is hosting a craft beer party featuring Berkshire Brewing Company from 6 to 8 p.m.
But all day today, any craft beer (14 oz) and an individual Chicago thin crust or deep dish pizza is just $10 with the coupon attached to this column. Coupon must be presented.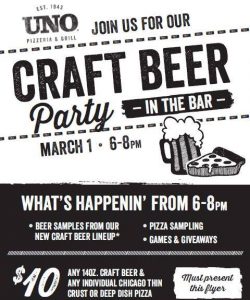 5.  Rick's Piano Bar opens at China Gourmet today from 5:30 to 8:30 p.m. Rick McKenna had been performing at Lavender's in Sudbury but now will be performing in Framingham.