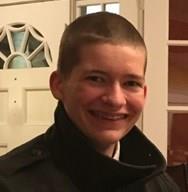 FRAMINGHAM – Joshua Dean Casey died on December 11, 2017, three days shy of his eighteenth birthday.
Had he lived, he would have become a Marine, just as his father did. He had committed himself to an exercise regimen and body-building to be ready for national service. He had been a wrestler early in high school and had shown himself to be highly competitive.
He was born in Minneapolis, the son of Dominic and Tina Casey. His siblings include his older brother Kyle and a younger sister and brother, Annamarie and Aaron.
For the past six years, he lived in Framingham, where his aunt and uncle, Chantal and Troy Johnson, raised him, disciplined him, and loved him as they did his cousins, Troy and Mahalia. As Mahalia is quick to remind us all, she always referred to Josh as her brother, not as her cousin. But what does any of this tell us of who Joshua Dean was and what he felt?
Let's go backward in time. Josh's mother thought her little boy was exceedingly bright. She repeated this question from her four-year-old Josh, who had looked up from coloring and asked, "Do animals know they're animals?" I think this evidences the truism that children are more intuitive than adults and not afraid to ask important questions like this one.
Moving forward a little, in October of 2012, Josh came home from school with his seventh-grade report card: three A-pluses, one A, one A-minus and the commendation, "Joshua is a pleasure to teach. He has a positive attitude and great effort and participation. Chantal described her nephew this way: "He is high honors. He is so proud and excited. He keeps staring at it and touching the paper and saying, "This is me! This is me!" Of course, one grows older, more sophisticated, and not so sure that grades tell us who we are.
Josh loved to create stories and he was a perceptive reader as well as a great tease and jokester. For some years, he kept journals in which he would set down his creations, possibly for future publication. He loved reading The Odyssey because he found the hero, Odysseus his kind of guy-strong, adventurous, clever, devious when he needed to be, and able to think on his feet, a fellow who could answer "No one" when asked what his name was and, of course, he saved himself when the question later arose, "Who's there?" and the answer came back from Odysseus, "No one."
Josh won't ever leave our hearts. When we talk to him, we will have to listen hard to hear him answer, "Here I am. No worries."
The service will be at Duckett Funeral Home in Sudbury at 7 p.m. Family and friends can visit from 5 to 7 p.m.
Please omit flowers, memorial contributions may be made to the National Suicide Prevention Lifeline (mailed donations may be written out to the Mental Health Association of New York City (or MHA-NYC), 50 Broadway, 19th Floor, New York, NY 10004).