OUT MetroWest Launches Middle and High School Afterschool Program for LGBTQ Youth
FRAMINGHAM – Local non-profit organization OUT MetroWest has begun weekly drop-in sessions for lesbian, gay, bisexual,  transgender, and queer (LGBTQ) youth in grades 6 through 12.
Staffed primarily by LGBTQ adults, the free sessions are held in Framingham and are open to all interested youth.
OUT MetroWest launched the sessions in June at the request of youth participants and with the help of a grant from The TripAdvisor Charitable Foundation.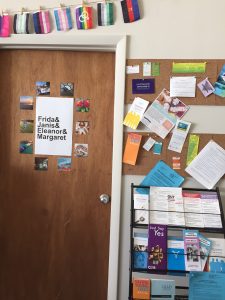 "Our existing youth programs are educational, social, and supportive, and we have robust attendance at meetings. Still, youth were asking to meet with peers and mentors in a more casual, less structured space. Drop-in sessions are our response to that request. We've created a space where young people can relax and be themselves without a set agenda," said Sawyer Bethel, OUT MetroWest's interim executive director.
Twenty-five youth have attended drop-in sessions thus far, with some youth traveling from as far away as Boston, Brookline, Westwood, and Worcester.
Drop-in hours are from 3 to 6 p.m. each Thursday at 929 Worcester Road, and sign-up is not required.
Activities at drop-in sessions are overseen by adult facilitators but chosen by youth participants. Some youth choose to work on homework while others play board games or borrow books from the organization's LGBTQ lending library.
"Whether you want to hang out and talk, play table tennis, or make art, we've got an activity for you. Drop-in sessions are a good fit for just about anyone," says Marie Caradonna, OUT MetroWest's youth specialist.
MetroWest runs four programs for LGBTQ middle and high school youth, totaling more than a dozen meetings each month. Meetings are held in Framingham, Newton, and Wellesley.
The organization also provides workshops in the community to enhance understanding of gender identity and sexual orientation, as well as events for LGBTQ parents and their families.
For questions about accessibility and more information about OUT MetroWest, see www.outmetrowest.org or call 508-875- 2122.