5 Things You Need To Know Today in Framingham: Thursday, October 19
1  Several Framingham organizations are hosting an political forum tonight at 6:30 at the Greater Framingham Community Church. The Framingham Coming Together political forum is sponsored by the Framingham Interfaith Clergy Association, Welcoming Framingham, Framingham Showing Up For Racial Justice, and the Delta Sigma Theta Sorority Inc. local chapter. The candidates for the City of Framingham for mayor, at-large city council and district council have been invited to attend. The public is invited to attend the free event.
2. Framingham High is hosting a jumpstart to college and career event tonight at 7 in the auditorium for juniors and their parents/guardians. School counselors will share timelines for moving forward with the college search and application process, general information about standardized tests, and links to resources on these topics during the 90-minute session.
3. MUSTANGS in action:
Boys soccer has an away game against Cathedral
Girl soccer hosts Cathedral at Merchant Field
Girls volleyball has a match against Lowell Catholic today.
FLYERS in action:
Girls soccer hosts Weymouth at 3:45 p.m. at Framingham High
Boys soccer travels to Weymouth for a 3:45 p.m. game against the Wildcats
Field hockey has an away game against Weymouth at 3:45 p.m.
Girls volleyball hosts Weymouth at 4 p.m. at the high school gym
4. Walsh Middle School PTO Is hosting a fundraiser at Bertucci's today. Any one who shows the coupon below means the restaurant will donate 25% of the bill to the PTO.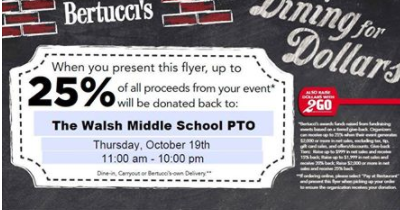 5 . The Framingham Farmers Market is open today at the Framingham Centre Common from noon to 5:30 p.m