POLITICAL CORNER: District 7 Council Candidate Shepard Endorses Spicer for Framingham Mayor
Editor's Note: The Framingham Source political corner publishes on Saturdays. Campaigns and candidates can submit photos and press releases. The next column will publish on Saturday, October 21. Deadline to submit is Friday, October 20 at noon. Source reserves the right to not publish a photo or edit a release. Click here for the Framingham Source election policy. Framingham Source will accept political ads. The acceptance and publishing of any advertising for a candidate does not reflect the position of Framingham Source, which will remain neutral on any candidate or ballot question.
***
Spicer Campaign Names Blumer and Mash Co-Chairs
FRAMINGHAM – Mayoral candidate Yvonne Spicer announced this week that Irwin Blumer and Erica Mash have joined her campaign team as co-chairs for the final stretch leading up to the general election on November 7.
"Irwin Blumer and Erica Mash know me well and they have also have earned tremendous respect in the community for all they have contributed to Framingham for many years. Having them on the leadership team to support me and serve on my campaign is a great honor," Spicer said in a media release. "Irwin and Erica will help lead community connection efforts during these next four weeks as we build on the tremendous momentum from a historic win in the September 26th  preliminary election."
Irwin Blumer is often referred to as "Mr. Debby." He was married for 46 years to the late State Rep. Deborah Blumer, and has been involved in the community, since he came to Framingham in 1966.
Blumer in a press release said he is "honored and humbled to be a point person for Yvonne's campaign. This is such an important election. Yvonne is a very bright, effective leader. She's a people person guided by integrity and she is an excellent listener. She incorporates diverse opinions in her decisions and is transparent about her thought process. Framingham is an important place – very different than the suburbs around us. I can see Yvonne energizing the entire city, bringing people together, making the most of all we have in this community, and successfully setting the stage for the future. I believe Yvonne will be the trusted leader Framingham needs to help realize our community's potential. She will truly be The People's Mayor."
Mash in a press release said  "I first met Yvonne years ago working at Framingham High School. When I heard of her from colleagues she was highly regarded for the quality of her work and her strong connections with students and their families. When I got to know her, I could see she was the "real deal," an honest, genuine human being and an experienced leader with a proven track record." Mash makes a point of saying that 'Yvonne Spicer cares about people and solutions, not
politics. I believe Yvonne is the Mayor we need to bring us through this transition to a city and to accomplish the beginning of real socio-economic betterment. I look forward to serving in this leadership role on the campaign. This is an important vote on November 7th . Our future is at stake and we have to get it right. I'll be giving my all to make that happen."
***
Framingham Coming Together: Political Forum
FRAMINGHAM – Framingham Coming Together will hold a political forum on Thursday, Oct. 19 at the Greater Framingham Community Church at 6:30 p.m. Both mayoral candidates Yvonne Spicer and John Stefanini have accepted. This event is free and the public can attend.
***
Temple Beth Am Brotherhood Breakfast with Mayoral Candidates
FRAMINGHAM –  Temple Beth Am Brotherhood  will hold its monthly breakfast on Sunday, Oct. 22. The focus this month is on City of Framingham politics and the November 7 election, in which the first Mayor of Framingham will be elected.  The breakfast will start at 9 a.m. Registration begins at 8:30 a.m. Cost to attend for non-members is $14. Both Stefanini and Spicer have agreed to attend.
***
District 7 City Council Candidate Endorses Spicer For Mayor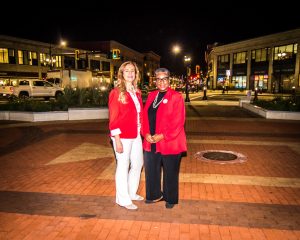 FRAMINGHAM – Yvonne Spicer announced yesterday that community activist and candidate for City Council in District 7 Margareth Shepard has endorsed her for Mayor of Framingham.Shepard, a Brazilian immigrant and local business owner said in a press release she is endorsing Spicer "because she will be a Mayor who cares about people and finding solutions to improve their lives. She will not be distracted by special interests and she will lead Framingham with integrity towards the best course for our future."
Shepard is a business owner in Framingham for 25 years. She serves as a Town Meeting member and on the Framingham Ways and Means Committee with Spicer.
"I respect how thoughtful and she is when she forms opinions and makes decisions. With Yvonne as Mayor the work will be about more solutions than politics." Shepard said.
When asked what the endorsement meant to her, Spicer said, "I'm honored to have earned her trust, her confidence and her support. It means a lot because Margareth is a highly respected, leader and very active member of our community. As a Brazilian immigrant who worked very hard to make a good life for her family in Framingham, she has also given so much back to the community. She knows the issues, takes them on and she gets involved to make a difference in people's lives."
Shepard is a board member of the Brazilian American Center (BRACE) and a member and Treasurer of the Framingham Democratic Town Committee. She serves on the MetroWest Commission on the Status of Women and is Co-Founder and Coordinator of Brazilians for Political Education.
***
Column photos courtesy of Yvonne Spicer campaign