POLITICAL CORNER: Selectman Endorses Steiner and Mass Alliance Endorses Dorfman
Editor's Note: This is the 6th Framingham Source political corner for the 2017 City of Framingham election season. The Political Corner will publish on Saturdays. Campaigns and candidates can submit photos and press releases. The next column will publish on Saturday, August 26. Deadline to submit is Friday, August 25 at noon. Source reserves the right to not publish a photo or edit a release. Click here for the Framingham Source election policy.
***
Wadland School Committee Campaign Kick-Off Event Monday
The Committee to Elect Scott Wadland will officially kick-off his campaign for District 3 School Committee on Monday night, August 28. District 3 School Committee represents Precincts 4 & 7.
The free event is at the Framingham Lodge of Elks at 450 Union Avenue from 6:30 to 9:30 p.m. Attendees are asked to donate a non-perishable food item to benefit Framingham families in need.
Campaign donations of any amount are greatly appreciated and can be made by check payable to "Committee to Elect Scott Wadland" or online at https://www.gofundme.com/wadland.
Selectman Monzon Endorses Steiner For City Council District 3
Adam C. Steiner, candidate for Framingham City Council representing district 3, recently received the endorsement of Cesar Monzon.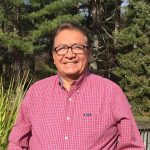 Monzon is a current Framingham Selectman, district 3 leader, and former Framingham EDIC chair and School Committee member.
"Adam is someone that will take care of our district, as an educator both his wife and him understand what is best for our City, and as a five year Town meeting member understands how important it is to have a balance in our City landscape, born and raised in Framingham, I am 100 percent behind him to be our counselor for our district," said Monson.
Steiner, who lives at 43 McAdams Road, , also was recently endorsed by Framingham Town Meeting member, business professional, EDIC member and district 3 resident, Dan Rao of Claudette Circle.
Rao said "I first met Adam about six years ago when he successfully ran for Town Meeting Member. He is a strong supporter of our schools and the community. He has strong core beliefs and values, and listens well to people with different points of view. He created a Facebook page for the Framingham Community that he managed very fairly. Framingham will benefit by electing Adam Steiner as a District Councilor."
Steiner was previously endorsed by District 3 resident Bob Berman, of Lanewood Avenue, who said, "I want my City Councilor to be someone I trust and who will do their homework every time, someone who will listen to their constituents and shape smart positions on important issues by weighing multiple opinions from diverse areas. Further, I want District 3 to be represented by a strong leader, and I have no doubt that Adam Steiner is that person."
Steiner has also been endorsed by Greg Palmer, Framingham resident and President of Framingham Girls Fastpitch Softball (FGFS).
Palmer said, "Adam is deeply rooted in Framingham and has the right blend of experience, smarts, and independence to help transition our town to a city. In my conversations with Adam as he began this journey, it was very clear that he is a careful listener and considers multiple perspectives before forming opinions. This is an exciting time for Framingham to have such wonderfully qualified and committed candidates such as Adam Steiner. He will absolutely represent all people in town giving an important voice to many new ideas."
Read more about Steiner in his announcement to Source.
Mass Alliance Endorses Dorfman For City Council District 6
FRAMINGHAM – Progressive political coalition Mass Alliance announced it will endorse Brian Dorfman for Framingham District 6 Councilor as the city transitions into its new system of government.
"As Framingham transitions to a city it will be critical for voters to have a Councilor who is dedicated to putting residents first, we know Brian is going to be that City Councilor," said Mass Alliance Executive Director Jordan Berg Powers. "Brian has shown a deep commitment to the people of Framingham, we know he will set a great example for future generations as the first District 6 City Councilor, which is why Mass Alliance is proud to endorse him."
Mass Alliance is a coalition of political and advocacy organizations from around Massachusetts that works to better the future of the Commonwealth by supporting and empowering progressive candidates and leaders in the state. The
Brian Dorfman for Framingham District 6 Councilor campaign aims to build the city of Framingham together with the citizens in order to maximize government transparency and accountability, keeping taxes low, protecting civil rights, improving government accessibility and alternative energy use, and supporting business growth, said its campaign press release.