Framingham Resident Opens Renee's Kitchen in Natick
FRAMINGHAM – Wellesley native Renee Faubert took her first cooking class at age 9. This week, the Cordon Bleu School trained chef opened Renee's Kitchen in Natick on Route 135.
The goal of Renee's Kitchen is to provide families with a home-cooked meal, with fresh ingredients, to help them enjoy dinner time with their family, without the stress of deciding "What's for dinner?"
"I know how busy we all are and that, by the time you get home, you just want a healthy, delicious meal on the table. The meals you pick up from Renee's Kitchen will be ready to heat and eat – quick and easy!," said the Framingham mom.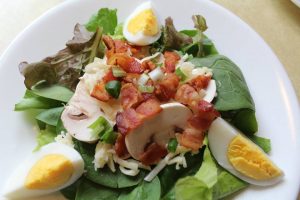 In the morning, Renee's Kitchen will be selling simple baked goods.
"I love to make muffins and scones," said Faubert, who contracted with Speedwell Coffee Roasters to line up some "amazing coffees and teas."
For lunch, customers can purchase soups, pasta salads, wraps, salads, and finger rolls. Faubert plans to post the lunch menu daily on the website. There will be two soups offered daily, and the soups will change daily, said Faubert.
"All the soups are made from scratch," said Faubert. "The stocks are made in-house with fresh ingredients, and I love keeping the soups simple while offering great variety. Again, we try to keep them seasonal and use vegetables that are abundant and fresh."
The main focus of the business will be take-home dinners.
Mondays through Thursdays, Renee's Kitchen will offer two entrees along with soups, stews, salads, and veggies.
Customers can get advanced notice of weekly choices by signing up for the Renee's Kitchen email or visiting the Renee's Kitchen Facebook page.
The choices for the following week will be announced every Wednesday on the Renee's Kitchen website, said Faubert.
"You can guarantee your choice by ordering online (and paying via PayPal)" through the website, emailing Renee's Kitchen or private messaging Renee's Kitchen via its Facebook page," she said.
"The dinner choices change every day, and we are planning on not repeating entrees for at least 6 weeks," said Faubert. "The idea is to break up the ordinary routine, while offering meals that are healthy, sustainable, and tasty!"
Faubert said pasta is something customers can see often on the menu, as it allows her to modify it and "end up with a unique meal" in the end.
The menu will also vary by the seasons.
"Part of how I create the weekly menu is by taking stock of what's fresh and in season," said Faubert. " I've paired up with a few great distributors who I can trust will tell me what fish, vegetables and speciality items are good deals and good quality."
"Honestly, I also always look at the weather report," joked Faubert. "You know New England! There are days in the spring that I cross my fingers that the weather man in right, that it really WILL be 50 degrees on Monday and 80 degrees on Thursday of the following week. But it usually works out that what pops into my head to cook is appropriate!"
Faubert hopes to fill a void in today's family life.
"It's nearly impossible for people to get home at the end of the day, cook a meal, and sit down together to enjoy it. If what I do helps people relax at the end of the day and enjoy a meal that's nourishing to both the body and the soul, then I have really accomplished something," said Faubert.
Faubert began cooking food for families, via requests, while cooking for her own family.
"When I got pregnant with my first child, I knew I couldn't stay in the restaurant business. My mother had been running a family childcare home in Wellesley for years and I called and asked her if she needed help," said Faubert. "She was delighted to have me come work for her. In the afternoons, I'd be getting my family's and my parents' dinners ready and the parents would be straggling in to pick up their children (all under the age of 3) after a long day. They'd smell the aroma and ask, "Oh, what's for supper?" So I'd tell them in advance, and if they wanted to they could get what I was cooking. That was over 20 years ago! I had families begging to come back and get the dinners after their children left. Ha! So I figured I needed to focus more on the food."
Faubert has always loved to cook.
After a year as a biochemistry major at Wesleyan, she went to Europe for a summer and attended the Cordon Bleu School of Cookery in London in 1985, and completed their Chef's Certification Course.
Later, she went back to school at UMass Amherst and received a Bachelor of Science in Hotel and Restaurant Management, "but my heart has always been in the kitchen," Faubert said.
And from her decades in Wellesley cooking for families, came the concept for Renee's Kitchen.
"Much like what I did for my daycare families, I have always thought it'd be great to open a place where people could stop in, see what there is, order dinner or maybe just grab a bowl of soup or a muffin," said Faubert. "Kind of like swinging by your Mom's house when you're a young adult, hoping there'd be your favorite meal simmering on the stove. Or maybe realizing that Mom's making a new dish that could become a new favorite!"
"Everyone's busy, and part of what I thought was that, if people could plan on getting their supper from us and KNOW they didn't have to think about what to plan/cook/shop for for supper at least a night or two a week, it would be a nice break from the ordinary," said Faubert.
And for those with a sweet tooth, don't worry Faubert has you covered.
"Much like the dinners, I like to switch up the dessert offerings," said Faubert who will offer cookies and cupcakes for customers.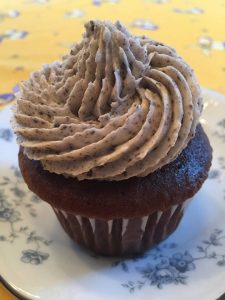 Six years ago, while working at her mom's daycare, Faubert began selling cupcakes as she had joined the "West Point Moms Bake" group, which sends care packages to deployed soldiers each month. (Faubert's oldest son graduated from West Point.)
"I sold cupcakes every Thursday to help subsidize the cost of the packages," said Faubert. "It seemed like a win-win! My son has graduated but still, the cupcakes have always been a big hit."
Cupcakes will have a regular appearance at Renee's Kitchen. Flavors include the Salted Caramel, which sold out this week, Coconut Rum, Oreo, Chocolate, Carrot Cake, etc.
"The one thing I do plan on having available every day will be my Fleur de Sel Chocolate Chip Cookies," said Faubert.
"I start by taking a high quality block of chocolate and chopping it by hand," aid Faubert. "The dough takes a couple of days to make properly, but it's worth it! When they're ready to go into the oven they get just a sprinkling of flaked salt ("fleur de Sel") to finish them."
Faubert will also sell gluten-free cookies available every day, along with other gluten-free menu items.
"Although the kitchen is not a dedicated gluten-free facility, as someone with a severe wheat allergy I am VERY careful about cross-contamination," said Faubert, who ironically would make pizza every day if she could only have one food, "as much as a gluten-free person like me hates to say so."
So on Saturdays, Faubert plans to offer gluten-free pizza.
"I don't bake any other kind of pizza, but my gluten free pizza is worth the trip!," she said.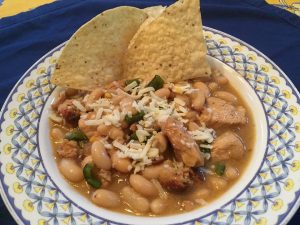 Renee's Kitchen is located at 148 East Central Street (Route 135) in Natick. Hours are Mondays through Thursdays from 8 a.m. to 7 p.m., Fridays 8 a.m. to 6 p.m. and Saturdays from 9 a.m. to 2 p.m. The Kitchen is closed on Sundays.
Renee's Kitchen offers three sizes – one, two, and three. "This is to keep it easy for you to anticipate how many adults it will feed. I usually figure one adult portion will feed two young children, but you know your family best. If you need any other quantities, we can usually be flexible," said Faubert. If you need to a larger group email her at Renee@ReneesKitchen.net.
Each meal is made from scratch on the day of service. To avoid disappointment, Faubert recommends advanced ordering online at the website. 
"Online orders close 24 hours before that meal's day, but you can always call ahead to see what's on hand. There will always be something new to try," said Faubert.
"I would hope that clients will become like friends; I hope that people swing by when they're in the area to fix themselves a cup of coffee or tea and see what cookies are coming out of the oven; I hope that they'll always yell back to see if I can come out and say hi," said Faubert. "Food is a very social, loving thing to me. I really look forward to sharing it with all who walk in the door."
***
Photos By Petroni Media Company