Political Corner: Councilor Campaign Kickoffs; Spicer Opens HQ; Sousa Holds Mayoral Event at Daniel's Table
Editor's Note: This is the third Framingham Source political corner for the 2017 City of Framingham election season. The Political Corner will publish on Saturdays. Campaigns and candidates can submit photos and press releases. The next column will publish on Saturday, August 5. Deadline to submit is Friday, August 4 at noon. Source reserves the right to not publish a photo or edit a release. Click here for the Framingham Source election policy.
***
Case Holding Campaign Kick-Off For District Councilor on July 30
Residents from District 5 (Precincts 8 and 12) are invited to a campaign kick off for Robert Case, who is seeking to be elected the first City Councilor For District 5.
There will be a backyard beer tasting and reception to meet Robert at the home of Paul and Vicky Jasper at 11 Hastings Street on Sunday, July 30 from 4 to 6 p.m. Case will take about his vision for the district and the soon-to-be City of Framingham.
Case is one of three candidates that would be on the ballot on Sept. 26. The top two voter getters in the preliminary election on Sept. 26 will be on the final election ballot on November 7.
For more information on the kick-off event or about Robert Case for Framingham City Council – District 5, please visit www.votecase.com. Robert can be reached at electrobertcase@gmail.com or at 508-271-7152.
Steiner Holding Campaign Kick-Off For District Councilor on August 2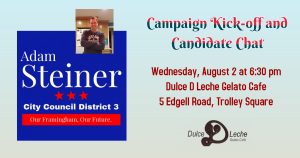 Adam Steiner, a candidate for city councilor in District 3, will hold a campaign kick-off and candidate meet and greet on Wednesday, August 2 at Dulce de Leche Gelato Cafe at 5 Edgell Road at 6:30 p.m. All are invited to hear the candidate speak.
Steiner is one of three candidates that would be on the ballot on Sept. 26. The top two voter getters in the preliminary election on Sept. 26 will be on the final election ballot on November 7. Learn more about him at steinerforframingham.com
Spicer Opens Mayoral Campaign Headquarters
Yvonne Spicer For Framingham Mayor Announces Office Hours for Campaign Headquarters
Framingham Mayoral Candidate Yvonne Spicer has opened her campaign headquarters at 945 Concord St. Scheduled hours are Mondays through Thursdays and weekends from 10 a.m. to 8 p.m. and Friday from 10 a.m. to 6 p.m.
Yvonne Spicer said, "I'm so energized by the high level of interest and participation in my campaign and I look forward to volunteers joining us in the headquarters and continuing to mobilize. We're having a great time and getting the job done."
The location is marked by a large 945 HQ sign along with outdoor campaign signs along Concord St. There's plenty of parking. All are welcome to visit and to sign up for volunteering on the campaign. For more information contact yspicerformayor@gmail.com or call 508-834-3177.
Sousa Kicks-off Campaign For Mayor at Daniels' Table in Downtown Framingham
On Tuesday, Priscila Sousa kicked-off her mayoral campaign kickoff at Daniel's Table in Framingham. Attendance surpassed the campaign team's expectations but all were greeted personally by the candidate, whose intention was to ensure that everyone felt heard.
Local immigration attorney Antonio Massa Viana, who is one of the directors of BRACE (Brazilian American Center), publicly endorsed Priscila's candidacy. Antonio fired up the crowd as he spoke passionately about the need to embrace the new voices in Framingham. He also spoke about the importance of political engagement from every group within the Framingham community.
Other speakers who endorsed Priscila included Nubia Gaseta, a leader in the Brazilian community and owner of Party Flowers in Downtown Framingham; Nelson Hernandez from "La Voz de la Comunidad;" and Álvaro Lima, Director of Research at the Boston Planning & Development Agency. Álvaro is also a historian of the Brazilian diaspora and the founder of the digital platform Digaaí, where Brazilians can find the results of his research.
Attorney Michael Foglia, who has practiced in Framingham for over 25 years, was unable to attend and recorded a video indicating that Priscila is more than qualified for the mayoral seat and sharing his support for her candidacy. The video was played for those in attendance.
Priscila took the podium to deliver an impassioned speech, sharing her experiences growing up on Weld St. and her experiences in inaccessibility to the municipal government growing up. She emphasized the need for more voices to be heard in Framingham, for more opportunities for political engagement to happen, and for complete transparency in local government. Priscila also mentioned that 2018 will be a year of setting precedent in Framingham and that it is up to the new mayor to ensure the City of Framingham will be known for its commitment to its people first.
"I am running because there are voices in this community that have gone unheard for too long! There are groups that have been disenfranchised for decades and whose contributions have been ignored. I don't believe that giving any one group a voice should be done at the expense of another. If there is not enough room at the table we NEED to build a bigger table, and I see no better time to do it. Our city charter passed on promises of a more transparent, familiar, and responsive government, one that could lead but also listen, one that represented the needs of everyone. We need a mayor who will be accountable to the promise of the city charter and to all the people of Framingham – so that your voice will finally be heard."
Learn more about Priscila Sousa for Mayor at www.SousaForMayor.org.
Release and photos courtesy of Sousa campaign