UPDATED: Gordon First Candidate Certified For City Ballot; Spicer Certified For Mayoral Race
FRAMINGHAM – Framingham School Committee member Cheryl Gordon was the first person to be certified for the City of Framingham election. She is running for City Council in District 5.
"I pulled papers to run for City Council the day they were available, May 1, and I got right to work going door to door meeting with residents of my district. It has been a great experience – however – many who opened their door at first were quite hesitant to discuss or support anything city related – my district had more people oppose the city charter than support it," said Gordon.
 "While I also did not support the version of the city charter that was crafted, I have fully embraced it not only by running for a position, but I have tried to encourage others to consider this an opportunity to make the new government the very best it can be. I am personally going to work hard to ensure that public participation continues to be an integral of our government process. I have learned a lot from the conversations that I have had with many neighbors from all walks of life, and I cherish the advice I've been given and ideas that have been offered to me. If elected, I will send out regular email surveys to my constituents and gather real, meaningful input to guide my decisions and votes. I look forward to continuing to visit homes from now until election day," said Gordon.
Framingham Town Clerk Valerie Mulvey said Spicer's signatures have been certified and she will officially be on the ballot for mayor.
She is the first candidate to collect the required 500 signatures  of the 7 individuals who pulled papers.
Also certified for the ballot was Framingham School Committee candidate Sheryl Goldstein (District 3), William LaBarge (City Council District 9) and Bob Case (City Council District 5), said Mulvey.
"I'm humbled to be the first School Committee candidate to have submitted and certified nomination papers for our new city government. I can now focus on getting out to meet more of the residents (in district 3) and understand the needs and wants of our schools and me as their representative. My current position is to ask for better communication throughout the district, more accountability from all departments and build and develop a strong vision for the future of Framingham Public Schools," said Goldstein.
In a press release, Spicer said  "I am overwhelmed by the tremendous effort of my team of volunteers to crisscross Framingham helping me collect signatures. I am deeply grateful for their hard work – in only 12 days to amass more than double the number of signatures we needed."
Spicer, in a press release thanked her field director and team captain Norma Shulman "for her passion, dedication and commitment to this process."
"Campaigns are won by the collective energy and commitment of the people who desire change and fight for it. I am proud to be that game changer for Framingham and one step closer to being the first mayor of our community," she said in the press release.
The first mayoral election in the City of Framingham takes place on November 7, but if enough individuals are certified for the ballot there will be a preliminary election in September.
"Now I can focus on meeting with residents and business leaders to talk about their interests and concerns. I would be honored to be the People's Mayor – all the people – unifying our community. In all my work, I seek opportunities to engage multiple groups to build consensus. And it's been about bringing people together to get things done. I plan to do that and more for Framingham," said Spicer in the press release.
***
Photo of Spicer submitted to Source by her campaign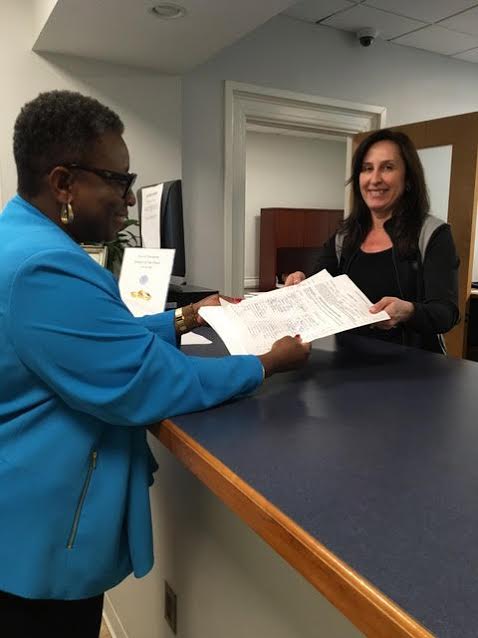 Last updated with quote from Goldstein at 2:35 p.m. Originally posted at 8:55 a.m.