Framingham School Committee Member Hugo Speaks at Rally For Public Education at Boston Common
Editor's note: Framingham School Committee member Beverly Hugo spoke at the Rally For Public Education at Boston Common on Saturday. Below is her speech.
***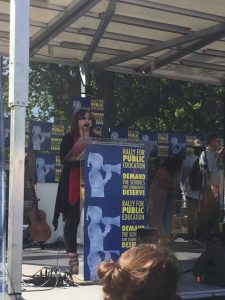 I am Beverly Hugo, President-Elect of the Massachusetts Association of School Committees and a member of the Framingham School Committee.  I am a proud product and staunch advocate for public education! I believe in its power to lift all students out of poverty and adversity and into the realm of opportunity, benefitting all students, families and municipalities.
As a Boston Public School teacher during the first few years of desegregation, I saw firsthand the ravaging effects of poverty, despair and discrimination. With the proper funding and supports and the belief that all students can achieve and succeed no matter what the circumstances of their birth are, we reduce the school to prison pipeline and raise up all our charges–including our most vulnerable–our children in poverty, our homeless, our English learners and our newly arrived youngsters. We must prevail in fighting for this basic constitutional right–the right to a free public education for all!
I am joining forces with you today because our public schools are under attack, not by a foreign force, but by our own President and Secretary of Education. As an educational policymaker, I have witnessed how the Trump administration has infiltrated policy and practice and has become synonymous with educational disparity, misguided focus and intolerable and inhumane cuts to programs and services. When I look at my City of Framingham with its over 400 homeless students and 66% high needs students, we are looking at a demographic that Trump and DeVos have only seen from the backseat of their limousines.
Trump's suggested $10.6 billion cut to public education this week is irresponsible and a direct threat to our public schools. This drastic loss of revenue will cause cuts in vital areas of education, with Special Education and Bilingual Education, our medically and emotionally fragile and our socio–economically disadvantaged taking the hardest hits. Who will benefit–religious, private and Commonwealth Charter Schools. Public dollars, our dollars unconstitutionally supporting religious and privately run schools, with little accountability.
We need to stand together as partners to fight this injustice to our public schools across our country and in our state and by letting our voices and our votes be heard. We need to work together to tell our friends and foes on Beacon Hill and Capitol Hill to fully fund education and that public monies must go to public schools so that we can produce the schools our children and society deserve! We must resist and persist–starting today, right now, on the Boston Common for the common good for all our Commonwealth's valued students, their futures and our democracy!
Thank you!
Beverly Hugo
***
Photo courtesy