PHOTOS: Libier, Stanton Receive Youth of the Year Awards From MetroWest YMCA
FRAMINGHAM – Last night, May 17, the MetroWest YMCA celebrated its 56th annual meeting, introduced its new board chair, and honored volunteers and community stakeholders for their commitment to strengthening the community.  
Current Board chair, Reverend Emmett G. Price III, completed his two-year tenure as chair of the Board of Directors, passing the gavel to incoming Chair Anne Madera.
Rick MacPherson, MetroWest YMCA president said "We are fortunate to have very passionate and committed volunteer leaders.  We accomplished a great deal for the community during Emmet's time as Chair and we look forward to Anne's leadership as we kick off her two-year term."
Following the business portion of the meeting, the Y presented its Community Awards.
This year, the Y is recognized Fletcher Tilton PC Attorneys at Law with its Community Champion Award and Framingham State University with its Community Partner Award.
The Community Champion Award is presented to businesses or organizations who have actively partnered with the Y to positively impact children and families in the MetroWest community through philanthropic and volunteer support.  Community Champions lead by example, demonstrating the power of collaboration and the desire to give back.  Their investments of time, talent and treasure improve the quality of life in our community.
The Community Partner Award is presented to honor the valuable partnerships that exist between the MetroWest YMCA and its neighbors, and to celebrate collaborative efforts that successfully tackle the ever-evolving needs of our community and advance the public good.  Award winners are selected based on their initiative, leadership, and involvement in programs or projects that embody the spirit of genuine partnership with the MetroWest YMCA and benefit the overall community.
"Both Fletcher Tilton and Framingham State have been active and engaged partners in our efforts to improve the quality of life throughout the region.  We are grateful for their long-standing partnership with the Y and for all they do to make MetroWest a great place to live and work," said MacPherson.
The Youth of the Year Awards were presented Armando Libier and Thomas Stanton.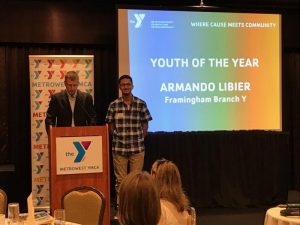 Libier was presented the Youth of the Year 2017 for his humble and fun attitude and being a positive role model to younger Y-night participants.
"The best night of the week at the Y is Saturday night after 7 p.m., when you must be in grades 5 – 8 to be in the building to participate in Y Night. This is when we have between 40 and 60 very active middle school youth in the building who are looking for a safe place to play basketball, workout, swim, and socialize and not be home in front of the computer or playing video games.   
Last year as an 8th grader, Armando stood out to Y Night staff as someone who was acting as a positive role model to our younger Y Night participants.  
Fortunately for us, Armando was interested in continuing to be a part of Y Night as a high school freshman as a volunteer, and his work in that role has been outstanding.
The Y's core values are caring, honesty, respect and responsibility.  
Armando puts those values into action each week as he actively engages with the kids in the gym, in the game room, or helping with the evening warm-up and providing support wherever asked. Armando's gentle, humble, soft –spoken nature makes him approachable and easy to talk to.  
He is quietly funny and fun-loving, but also recognizes if there is a situation that needs to be addressed before it gets out of hand.
Armando understands that it is very important to maintain a safe environment for all.
Keeping 60 high energy middle schoolers safe and entertained can be challenging, and Armando helps do so calmly and responsibly.  
Armando has rarely missed a Saturday night, and we appreciate that we can count on him to be here for the kids that are looking forward to seeing him each week.
"It has been wonderful to watch Armando grow as over the past year as he has established his confidence and voice in moving from a Y night participant to a Youth Leader. Armando is just completing the process to become Y Staff, and take on more responsibilities. Armando, thank you for your commitment to and excellent work in serving the youth in our Y Night program," said Lisa Mandozzi, Framingham Branch Executive Director
"Thomas is an Instructor Training Corps member and has recently been accepted the CIT program this summer. Since being involved with the Y, Tom's self-confidence has grown tremendously, he has become a role model and enjoys leading and guiding his peers.   We are all proud of Thomas Stanton," said Scott Umbel, Family Outdoor Center Executive Director.
The Volunteer of the Year goes was presented to Mark Baer for his involvement and support of the Y's youth Travel Basketball program.  
***
Photos courtesy of the MetroWest YMCA