5 Things You Need To Know Today in Framingham: May 4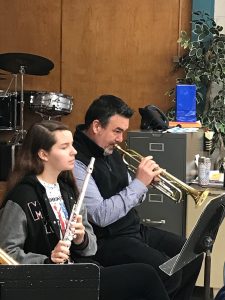 1 Framingham Superintendent of Schools Bob Tremblay started his "residency" program this week at Fuller Middle School. The newly-hired superintendent of schools will spend one week at each of the district's schools to get to know the staff, students, parents and the culture of the schools. The residency program was his idea.
This morning, the former music teacher, joined the Fuller Middle School Jazz band at 7 a.m.
Thanks to Donna Wresinski, K-12 arts director, for the photo.
2. Just a reminder that tonight' scheduled special Town Meeting has been rescheduled to May 11.
3.  Yesterday, after 32 years with the department Framingham Fire Lt. Kevin Kenney and firefighters Kurt Toucey retired.
4. Hemenway Elementary PTO meets at 6:30 and Barbieri Elementary PTO meets at 7 tonight.
5. FLYERS in action:
Baseball travels to Walpole for a 3:45 p.m. game against the Rebels
Girls lacrosse hosts Walpole at Read Field at 3:45 p.m.
Boys lacrosse at Walpole High at 4 p.m.
Boys volleyball hosts Braintree at 4 p.m.