UPDATED: Inaugural Taste of Downtown Framingham Sunday
FRAMINGHAM – Looking to highlight the international culinary options in downtown Framingham, the Downtown Framingham Renaissance organization is co-hosting the inaugural Taste of Downtown Framingham Sunday, April 23 at Springdale Beer.
The event is from 3 to 7 p.m. at 102 Clinton Street.
Tickets are $15 per adult, $25 for two adults, and $5 for a child (12 and under.)
Order tickets by clicking here. Tickets will also be sold at the door.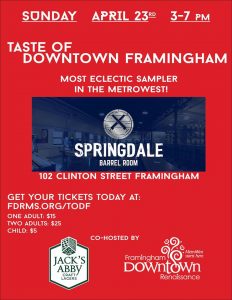 In late January, the downtown organization bet with Sam and Jack Hendler of Jack's Abby and came up with the idea to "bring all the restaurants from downtown Framingham together in one place," said Framingham Downtown Renaissance Director Courtney Thraen.
The event is co-hosted by Jack's Abby Craft Lagers and the Framingham Downtown Renaissance organization.
"The goal is to show the diversity and quality of food downtown," said Thraen. "And to shine a light on the hard-working individuals from these small businesses. We want to help them to succeed by offering them a new audience."
Thraen said Framingham is blessed to have "robust" and vibrant, international group of restaurants downtown.
"There is American, Colombian, Latin, Chinese, Brazilian, Vietnamese," said Thraen.
There are a total of 11 establishments participating on Sunday, said Thraen.
"The goal is for those attending to see the faces behind these small businesses, and try some of their food," said Thraen. She said attendees will also get a flyer at the event on each restaurant with their personal story and coupons to come back and eat again.
"We are looking to drive traffic back to downtown Framingham," she said.
She said there will be 22 samples for each guest and Springdale will be selling beer too.
Restaurants participating include Anastasia's Oven & Grill, Frescafe, Danny Sullivan's Deluxe Depot Diner, Mi Cocina, Jack's Abby, Miranda Bread, Padaria Brasil Bakery, Pho Dakao, Taqueria Mexico, and Terra Brasilis.