Attorney General Secures $22 Million From Santander in First-in-Nation Settlement Involving Sub-Prime Auto Loans
BOSTON – The largest packager of subprime auto loan securities in the United States, Santander Consumer USA Holdings Inc. (Santander), will pay $22 million for its role in facilitating unfair, high-rate auto loans for thousands of Massachusetts car buyers, Attorney General Healey announced today.
"After years of combatting abuses from subprime mortgage lenders, these practices are unfortunately familiar," said AG Healey, in a press release.
"We found that Santander, a leading player in the business of packaging and reselling subprime auto loans, funded unfair and unaffordable auto loans for more than 2,000 Massachusetts residents. Thisfirst-in-the-nation settlement relating to subprime auto loan funding will provide relief to thousands of car buyers in Massachusetts and prevent these practices from being used against our residents," said the attorney general in a statement.
The AG's investigation, handled jointly with the Delaware Attorney General's Office, revealed that Santander allegedly funded auto loans without having a reasonable basis to believe that the borrowers could afford them. In fact, Santander predicted that many of the loans would default, and allegedly knew that the reported incomes, which were used to support the loan applications submitted to the company by car dealers, were incorrect and often inflated.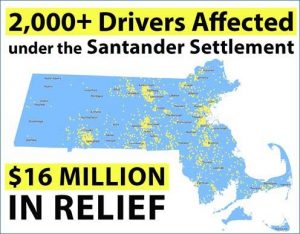 Car loans to consumers with poor credit, known as subprime auto loans, are often made through contracts signed at the car dealership, but the loans are funded by non-dealer financial institutions, like Santander. As part of the funding process, many investment banks and other financial entities resell or securitize the loans, dropping them into large asset pools and selling bonds or notes backed by the assets in the pools. Money obtained from the securitization process is then used to fund more subprime loans.
Today's settlement, filed in Suffolk Superior Court, includes $16 million in relief to more than 2,000 affected consumers and a $6 million payment to Massachusetts. Santander has also agreed to implement new oversight policies regarding subprime auto funding and securitization practices.
Santander is the largest securitizer of subprime auto loans in the United States. S&P Global ratings has reported that the company, with its related entities, has more than a 30 percent market share of this multi-billion-dollar industry.
The AG's Office found that Santander's own internal audit concluded that the company's oversight of auto dealer conduct when making subprime loans was inadequate. Despite identifying a group of dealers that had extremely high default and delinquency rates and other problems, the company continued to fund loans through these dealers. Santander also allegedly identified a group of dealers it called the "fraud dealers," but continued to fund loans through them.
This settlement is part of AG Healey's ongoing review of securitization practices in the subprime auto market—an industry-wide investigation that remains ongoing.
Subprime auto loan securitizations have many similarities to the residential mortgage backed securitizations which played an important role in the 2008 financial crisis. The AG's Office began its review of subprime auto loan securitizations after bringing successful mortgage securitization cases against numerous investment banks including Goldman Sachs, Morgan Stanley, Royal Bank of Scotland, Countrywide Securities, Barclays, JPMorgan, and Citigroup.  Those cases recovered hundreds of millions of dollars for Massachusetts homeowners who had been placed in unaffordable and unlawful loans.
This is the second settlement between the AG's Office and Santander relating to its role in subprime auto lending in Massachusetts. In Nov. 2015, the AG's Office brought an action relating to Santander's funding of loans that allegedly included expensive insurance coverages, which caused the cost of the loans to exceed the state usury limit. In that case, Santander provided approximately $5.5 million in loan relief and payments to Massachusetts to resolve the allegations.
Consumers who have complaints or disputes relating to auto loans are encouraged to file a complaint with the Attorney General's Office.
This matter has been handled by the staff of AG Healey's Insurance and Financial Services Division, including Assistant Attorneys General Aaron Lamb and Glenn Kaplan, Mathematician Burt Feinberg, Legal Analyst John Michael Partesotti, Paralegal Helen Anderson, and Investigations Supervisor Arwen Thoman.
***
Release and photo courtessy of the Commonwealth