5 Framingham Schools To Pilot Parent Teacher Home Visits Program
FRAMINGHAM – Framingham Public Schools announced today, March 28, that a handful of its school will pilot a home visit program in partnership with the nonprofit organization Parent Teacher Home Visits.
The pilot program will take place in three elementary schools and two middle schools. They are King Elementary, McCarthy Elementary, Stapleton Elementary, Cameron Middle and Fuller Middle.
The intent of the home visits is to build positive relationships with families and to partner together to support their child's edcuational success," said a statement from Assistant Superintendent Frank Tiano.
"Parents and teachers come together to get to know one another and talk about their child's academic future," said Tiano in a press release.
Parent Teacher Home Visits connect the expertise of the family on their child with the classroom expertise of the teachers, according to the nonprofit organization.
According to the organization, "the visit is not a 'drop-in,' but rather an appointment set between two willing colleagues in a setting outside of the school. The student's home provides the most opportunity for learning and sharing, but teachers also may meet families at the library, a park or a coffee shop if needed."
The program is voluntary, according to a Framingham Public Schools press release.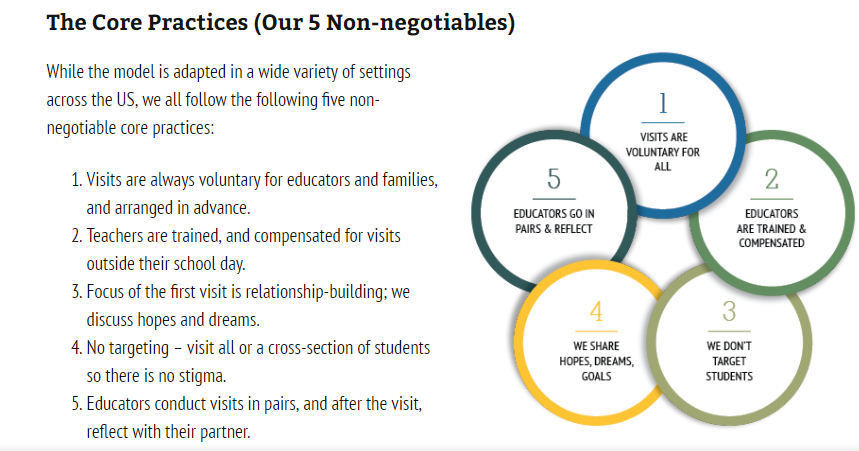 Parent Teacher Home Visits are a fast, inexpensive and replicable strategy for engaging families, educators and students as a team, according to the nonprofit organization.
Effective family engagement builds relationships and capacity, and is linked to student learning, according to research and the nonprofit organiztaion.
Secondly, even schools that understand the importance of families run into complex barriers that get in the way of partnership:
Everyone is short on money and time.
There may be a historic lack of trust and communication between the school and the community.
Cultural and socioeconomic differences, expectations and unconscious assumptions may get in the way of well-meaning adults working together effectively.
Our home visits have a protocol which helps educators and families overcome the barriers listed above, and build trust, communication and common goals, said the nonprofit organization.
"We are excited about this program and look forward to implementing it," said a Framingham Public School press release.