5 Things You Need To Know Today in Framingham: St. Patrick's Day
1 Happy St. Patrick's Day.
The Downtown Framingham Renaissance is hosting a Shamrock Stroll tonight. The stroll is free, but food and drink is on your own. Times are just a suggestion.
You can start at any location, at any time. Drink responsibly and have a designated driver to get home!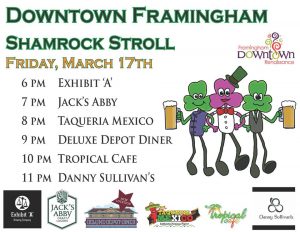 2. Danny Sullivan's will have its grand opening today.
Formerly known as The Tavern, the establishment will be open from noon to 1:30 a.m. at 102 Irving Street.
Danny Sullivan's is participating in the Shamrock troll sponsored by the Framingham Downtown Renaissance organziation.
3. Tomorrow afternoon, the Framingham High School Drama Company will compete in the semifinal round of the Massachusetts Educational Theatre Guild's drama festival.
Tonight, you can see the Company's entry at a benefit performance at Framingham High at 7. Tickets can be purchsed in advance at   www.showtix4u.com/boxoffice.php or purchased at the door for $10. Framingham High is performing steampunk-style of the Greek play Electra.
4.  Framingham boxer Danny O'Connor will battle Michael McLaughlin of Ireland in a title fight at the House of Blues in Boston tomorrow night. There is a free-weigh in party today from 1:30 to 3:30 p.m. with a sound check feature the Dropkick Murphys at the House of Blues.
5. The Christa McAuliffe Center on the campus of Framingham State University is hosting two sold out planetarium shows tonight.