Framingham Woman Launches 'Reboot America' Campaign To Delete the Alt-Right Movement
FRAMINGHAM – Today, Donald J. Trump will become the 45th president of the United States.
While he won the electoral college which determines the President, he lost the popular vote to former Secretary of State and New York Senator Hillary Clinton. For that reason, the country is divided today as President Barack Obama leaves office, after eight years.
A Framingham woman has launched a "Reboot America" campaign. She created and is selling products that say "Del Alt-Rt Ctrl."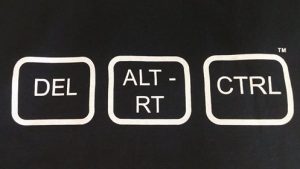 "I came up with the idea of Del Alt-Rt Ctrl (delete alt right control) when driving and hearing news about Steve Bannon, former executive chair of Breitbart News, being appointed to Senior Counselor for Trump. I kept thinking that "alt-right" sounded like a computer key, like when you reboot a computer. Then I was thinking about how this country is going backwards politically and that the country will need a "reboot" when Trump is in office," said Cathy Gruetzke-Blais.
"Well, the only way to reboot a backwards country is in reverse: instead of Ctrl Alt Del it would have to be Del Alt-Rt (specifically) Ctrl. It made me laugh out loud as I was driving. Honestly, I hadn't laughed very much since the election, which was about 10 days before. This is how the concept Reboot America: Delete Alt-Right Control was born," said  Gruetzke-Blais.
"It is not meant to be violent, more just humorous in a geeky way," said the Framingham artist.
She calls herself a "peaceful protester."
Gruetske-Blais created the logo and then copyrighted it, and now is selling products across the country, including as far as Texas and Florida.
"I have t-shirts, bumper stickers, and pins made-up and for sale via my etsy store," said Gruetzke-Blais. Shop her store by clicking here.
She also has a print on demand shop at Cafepress. Shop that store by clicking here.
Her best sellers have been the pins and the t-shirts, which were printed by Framingham-based Imprint Graphics in the Bancroft Building.
"I hope to accomplish questioning by people, who don't understand the graphic, and solidarity with those who do," said Gruetzke-Blais to Framingham Source.
"The Alt-Right Movement is basically White Supremacy. which is not inclusive and wrong. It is a racially divisive movement, as well as anti-feminist," said the Framingham mom of twin girls. "Breitbart has equated feminism to having cancer which is just sick. I cannot believe that Trump has appointed a man with such views to be an adviser. Hence, it is like going back in time. Progressive gains are in jeopardy."
Gruetzke-Blais said her "design is meant to be a quiet and snarky form of political protest. It can also start conversations which can then lead to knowledge and activity. Knowledge is power. Activity is the assertion."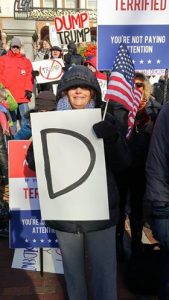 The Framingham woman joined a group and protested in Boston in front of the Massachusetts State House on Dec. 19, the day the Electoral College was voting around the country.
"It was mainly an anti-Trump gathering where people took turns expressing their outrage at the election results. Even though we all knew that our Electors would be voting for Clinton, I was with like-minded people who thought it was important to show solidarity with other people protesting in other states. It is a national issue, after all," said Gruetzke-Blais. "It was a cold day and I stood there for four hours holding the letter "D" in Democracy as we spelled out "Defend Democracy". I am proud that I was, by chance, given that letter. Democracy is important!"
On Saturday, she will be in Washington, D.C, for the women's march.
"There is strength in numbers and when joined with others there is a sense of solidarity, not being alone in your beliefs, she told Source. "I will not be selling any of my items there. I am there to enjoy the march. I will, however, have some buttons in my pocket and if anybody really likes my design (on my sign, sweatshirt, and button), I will hand them one."
Next month, one of her painting will be a part of a political exhibit at Access Framingham's studios, on President Trump.
"Art can express political protest because it is a form of communication. I liken visual art to the equivalence of written word. And music to the equivalence of speech. All are forms of communication. Art gets people to think and reflect. It approaches people in a different way than written or vocalized words. Art can provoke an emotional reaction when viewing it, and/or possibly leave someone with something to think about afterwards. Hence, it is one more way for somebody to express political opinions," said Gruetzke-Blais.
***