3 To Be Honored at 25th Annual Salute to Framingham
FRAMINGHAM – This year is the 25th year of the Salute To Framingham.
The event was created to honor individuals for their outstanding commitment and service to Framingham's youth.
On Thursday, March 30th, 2017, the Salute to Framingham will honor Chuck Greenslit, Benedetto (Bennie) Ottaviani and Maria Rosado.
These honorees join a select group of people who have made a real difference in the lives of the youth of Framingham.
Chuck Greenslit has been a dedicated soccer and basketball coach in the Framingham youth leagues for over 29 years. As a soccer coach for the Framingham United Soccer Club (FUSC), Chuck has been involved in more than 75 seasons and coached hundreds of youth at all ages and talents. Chuck has been instrumental in the growth of FUSC, embracing the diversity of kids from all sections of Framingham and encouraging them to come together on the soccer field.
Chuck has shown an ability to connect with kids on the basics of soccer and his passion for the game gets passed to his players. Other soccer coaches also benefit from Chuck's extensive coaching knowledge, learning tips and techniques in the art of coaching. His teams have been very successful, including many championships at soccer tournaments throughout New England.
As a basketball coach, Chuck has been leading teams at the MetroWest YMCA for the past 28 seasons. There are many kids in town who have learned the correct way to shoot, dribble and pass from Coach Chuck. He brings the same passion he has for soccer to the game of basketball. Chuck started the girls' basketball travel program at the YMCA and this program still thrives today.
Chuck has mentored and coached many kids who have gone on to play soccer or basketball at the high school level. Many of these kids still keep in contact with Chuck, a true testament to a great coach. When Chuck is not coaching, he keeps himself busy as the treasurer of his church and is a regular volunteer at Leonard Morse Hospital, working with patients who have recently gone through knee and hip replacements. In addition, he has been a soccer referee for many years and he still competes regularly in various men's leagues for tennis, soccer and basketball.
Many people know Bennie Ottaviani from his 18 years as the School Resource Officer at Framingham High School. What they may not know is how his commitment to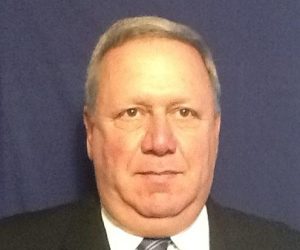 the youth of Framingham started long before and continues into his retirement. Bennie began helping the community in 1979 as a member of the Framingham Police Department. He served for a number of years as a coach for CYO basketball, eventually becoming a co-director of the program. He was a coach in the Temple Beth Am basketball league, coaching hundreds of kids. He was also a coach as well as a member of the Board of Directors for Framingham Little/Big League and also coached for the Framingham United Soccer League.
He has spent many years volunteering for the Police Athletic League (PAL) and has delivered dinners to the elderly on Christmas morning with his sons and other members of the Framingham Police Association. As an FHS parent, Bennie helped run the FHS Boosters, served as a co-president, and was instrumental in making the Booster Room a success that continues today, even continuing to do the shopping and stocking long after his sons had graduated.
In 1997, Bennie was named FHS School Resource Officer. Among many students and families, Bennie came to be known as a friend and mentor. Bennie built relationships with kids who needed advice and guidance making good choices. Students were drawn to him because he was always honest and genuine in his desire to support them and treat them as young adults. For all he done, each year, FHS awards a scholarship in his name which is given to a deserving graduating senior.
In his retirement, Bennie has only broadened his volunteer role. He is the Assistant Coach for the FHS Golf team, and on Thanksgiving morning, he can still be found preparing a Thanksgiving breakfast for the FHS football team, cheerleaders and band, a long time tradition. He is also a valued member of the Framingham Elks (named Elk of the Year twice) organizing community service projects with many of the FHS teams and plans fundraising dinners which benefit a variety of FHS teams. In addition, he serves on the Board of Directors for both the Marlborough Country Club and the MetroWest Community Federal Credit Union.
Maria Rosado has worked for community youth programs for more than 20 years. Before taking on her current role as Resident Services Manager at the Pelham Apartments in Framingham, Maria worked for Girls, Inc., the Camp Fire Boys and Girls as well as the Girl Scout Council. As Resident Services Manager, Maria has been the driving force behind strengthening and nurturing partnerships to bring opportunities to the apartments' youth including the Delta GEMS of the Middlesex Delta Sigma Theta Sorority, which focuses on leadership development, academic excellence, and college and career planning, while also placing emphasis on community involvement. Delta GEMS provides a framework for girls to excel academically and enter into college.
On behalf of the residents, Maria has also been instrumental in developing key relationships with Framingham State University, Daniel's Table and Boys and Girls Scout troops. She successfully applied for, and received, grants to bring flower and vegetable gardens to foster community and reduce fresh food challenges for the residents; she has provided academic supports through the HOPE program and she has provided mentoring and social support & programs to the youth and residents. Her generous spirit attracts everyone who meets her and her straight-forward open attitude makes her an incredible role model for the children and teens of the Pelham complex.
Maria goes well above and beyond for the children, teens and other residents at Pelham Apartments. For the teens at Pelham Apartments, Maria has provided guidance and advice when it comes to issues like positive self-esteem, good decision-making, teen pregnancy, healthy relationships and drugs. When that critical need is lacking at Pelham, Maria Rosado is the one the teens seek out for guidance.
Maria works in a very high needs environment which has many economic, social, academic and health challenges for the residents she serves. She always has an upbeat attitude, sees possibilities where others don't, and provides sound guidance and advice to children, teens and their parents.
Maria is often their advocate, the sole champion for a child or teen who desperately needs one. She works in what should be a high burnout position with perpetual enthusiasm and is always looking for better ways to serve the children and residents of Pelham.
The Salute to Framingham will take place on Thursday, March 30 at 5 p.m.at the Sheraton Framingham Ballroom. If you would like to purchase tickets, or for more information about the Salute to Framingham, please visit our website at www.salute-to- framingham.com.
All proceeds from the Salute to Framingham benefit the Framingham High School Foundation which supports the extracurricular Activities, Arts, and Athletics at Framingham High School.