5 Things You Need To Know Today in Framingham: Tuesday, December 20
1 Framingham Selectmen have the night off. The Board will not meet again until 2017.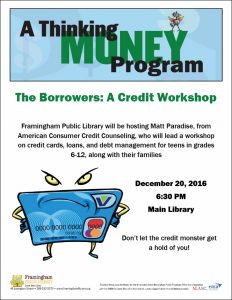 2. Framingham School Committee is scheduled to meet tonight at 7 in the King Building. Before the public meeting there will be a closed door meeting. One of the items on the agenda is to discuss former Superintenent of Schools Stacy Scott who tendered his resignation last Thursday.
On tonight's agenda is a discussion on the district's attendance policy as well as school fees, including athletic, busing and parking.
3. The Heritage Gallery at the Callahan Center will be open today for last minute holiday gifts. The Gallery will be open today from 10 a.m. to 2 p.m. and features hand-made art, pottery, scarves, jewelry and more from MetroWest artists and crafters. The Callahan Center also sells gift cards for dozens of stores at no additional fee. Its a great place to find those last minute gifts on your list.
4. The main Framingham Library is hosting a workshop on credit cards, loans and debt management for middle and high school students and their families tonight at 6:30. The Borrowers will be hosted by Matt Paradise, from American Consumer Credit Counseling.
5- FLYERS in action:
Tonight is the home opener for the Framingham High girls basketball team. They host the Rockets of Needham at 6:30 p.m. The girls are 1-1 this season.
The boys basketball team travels to Needham for a game against the Rockets at 6:30 p.m. They Flyers are 2-0.