Flyers Swim & Dive Team Finishes 4th in State Meet
CAMBRIDGE – Last season, the Framingham High girls swim & dive team finished seventh at the MIAA Division 1 State Championship meet.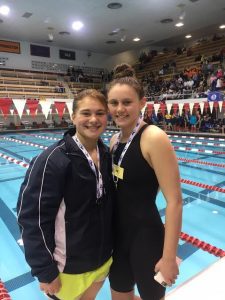 This year, the team finished tied for fourth place with Chelmsford High School at the MIAA Division 1 State Championships at Harvard Univeristy.  Andover High, again repeated as state champions with 476.5 points. Newton North finished second, and Acton-Boxborough finished third.
This is the fifth time Framingham has finished fourth in the state. The Flyers finished fourth in 2014, 2012, 2010 and 2009. In 2013, the team finished third, its highest showing.
Leading the team to its fourth place finish was a couple of juniors, who won individual state championship titles.
"I'm so happy and proud of McCurdy and Bower for their individual performances today," said head coach Mike Foley. "They were big individual goals of theirs. And, I and the other coaches were honored to be on deck with each of them, while they accomplished them."
Another major reason the Flyers finished fourth was due to its quartet of divers. Bower won the state title, but Framingham's three other divers all finished in the top 7 in the state meet.
Senior Stephanie Fawell ended her high school diving career with a third place finish in the state meet. She scored 406.70 points, a personal best.
Juniors Kalena Chin and Catherine Turner, finished sixth and seventh at the state meet yesterday for Framingham.
"These divers are unbelievable," said Foley. "We are lucky to have them all here together, feeding off each other and making each other better."
Bower said she was so happy to see her teammates do so well in the diving competition.
"I am so so so incredibly proud of them," said Bower. "They have all worked so hard, and to see them do this well at the state meet makes me so happy!"
"I am very happy that she finished her season on such a high note," said Bower of Fawell.
Team depth has been a factor in the team's success all season long.
In October, the Flyers won its 13th consecutive Bay State Conference Title.
Last weekend, the team won the Division 1 South Championship, for the third time in five years.
Yesterday, while McCurdy won the 500-yard freestyle title, two other swimmers competed in the same event with her. Junior Julia Long finished in 12th place with a time of 5:35.87 minutes, while senior Isabella Tersoni finished in 21st place with a personal best time this season of 5:43.33 minutes.
McCurdy finished third in the state in the 200-yard freestyle with a time of 1:58.38 minutes. Acton-Boxborough senior Madison Ford won the event in a time if 1:55.34 minutes. Freshman Jillian O'Neil finished in 13th place with a time of 2:05.67 minutes. Tersoni finished in 17th place, and Long in 18th place.
Framingham freshman Marley DeSimone finished 10th in the 50-yard freestyle in a time of 25.94 seconds. Andover High junior Sophia Ju won the sprint event in 24.57 seconds.  Framingham freshmen Jessica Tosi and O'Neil also competed in the 50-yard freestyle yesterday at Harvard University.
Senior Alessandra Miranda closed out her high school swimming career finishing 13th overall in the 100-yard breaststroke. Her time was 1:13.32 minutes. Andover sophomore Jordan Clements won the event in 1:06 minutes.
Earlier in the meet, Miranda finished 14th in in the 200-yard individual medley at yesterday's state meet, with a personal best time of 2:22.47 minutes.
Freshman Tatum O'Leary finished 17th in the individual medley with a time of 2:25.04. Teammate Olivia Nelson, a junior, finished 18th, with a time of 2:25.14 minutes. Senior Shelby Weeks ended her high school swim career in 28th place.
Framingham freshman Laryssa Gazda finished 20th in the 100-yard butterfly. Lexington High senior Taryn Waite won the event in 57 seconds. She was the only swimmer to go under a minute.
The Flyers had four swimmers who qualified for the 100-yard backstroke event. Freshman Caroline Mazariegos was the top Framingham swimmer in that event finishing in 11th place with a personal best time of 1:04.38 minutes. Gazda finished 12th, Nelson was 19th and senior Mary Zschau ended her high school swim career 24th in the state meet.
The Flyers finished sixth in the 200-yard medley relay. Swimmers were Mazariegos, Miranda, Nelson, & DeSimone.
The Flyers also finished sixth in the 200-yard freestyle relay. Swimmers were McCurdy, O'Neil, DeSimone, and Tosi.
"I'm very proud of the legacy these seniors have left with the program over their years," said Foley. "Especially, this year, showing this strong freshman class about our teamwork."