Burgess, 11, Qualifies For National Junior Olympic Cross-Country Meet
SARATOGA SPRINGS, NY – On Sunday, Framingham's Sam Burgess qualified for the national Junior Olympic cross-country meet.
Burgess, 11, finished 24th out of 151 runners in a meet that featured the best runners from New England, New York, and New Jersey. The top 30 runners qualified for nationals.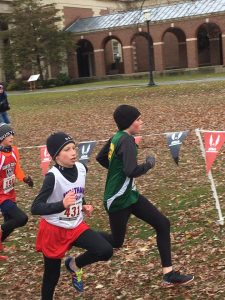 Burgess was able to compete in the regional cross-country meet by finishing 15th of out 170 runners at the New England Junior Olympics cross-country meet in Amherst, New Hampshire. He ran a 3K in 11:08 minutes in the 11-12 year old division.
Burgess first started enjoying running training for the Golden Eagle 5K at Stapleton Elementary School as a kindergartner. He is now a sixth grade student at the Christa McAuliffe Charter School in Framingham.
This is not the first time Burgess has qualified for a national running competition.
In 2015, he finished second in the 800 and third in the 1500 at the Northeast Regional Junior Olympics track meet to qualify for the  National USA Junior Olympic Competition.
The national cross-country meet is on December 10 in Hoover, Alabama.
***
Photos courtesy