VIDEO: Season Ends For Framingham High Grad on Project Runway
FRAMINGHAM – When the 15th season of Project Runway began on September 15, two designers with ties to Framingham State were among the contestants.
Framingham State fashion design and retailing alumni Corey Ortiz and Nathalia Castrillon, who goes by Nathalia JMag, made the final cut of 16.
Thursday night, Nathalia JMag, who grew up in Framingham and still lives in town, was cut. She was cut in episode 10 of the 15th season.
In her video blog, Nathalia JMag said it was ironic to get eliminated in a challenge, she thought she would succeed in.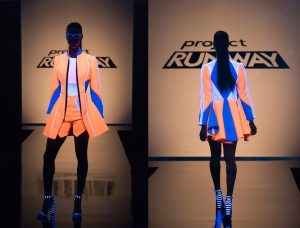 She and another contestant were eliminated in a double elimination episode.
"Project Runway is a competition and sadly it was my time to go," wrote Nathalia JMag on her Instagram account. "So the most dreaded day happened, I got cut!"
The Framingham High School graduate said she was "really grateful for the opportunity. It was an awesome experience and I learned so much and grew a ton as a person and a designer," she wrote on her Instagram. "I also got to meet some incredible people along the way. This has been the coolest thing I've ever done and it has only helped me in my short career as a designer."
Nathalia JMag has "only been designing for three years so getting on Project Runway is a huge accomplishment specially this early on in my career; I was the least experienced designer on the show so it was an honor competing alongside so many talented and experienced designers! I'm really happy and grateful for this opportunity. I'm not done. This is only the beginning."
The positive she said was that she got to show that she is a great outerwear designer.
Shop her collection, by clicking here.
It seems that her only regret is her last project on Project Runway.
"I wish I had gone with a look I was proud of because I'm not too proud of this one. I didn't think it was going to be bad enough to send me home but it is what it is!" she wrote.
She said it was not the "ugliest thing she has ever made," but she can't defend the outfit.
Nathalia told the judges she was inspired by the water for her outfit.
Guest judge Camilla told Nathalia the suit doesn't look like something a "powerful, strong woman would wear."
"It's more of a Power Ranger than a power woman," said Project Runway creator and supermodel Heidi Klum.
Guest judge Anne Fulenwider from Marie Claire tells her did not look like something a fashion designer would create.
Ironically, Ortiz won the challenge the same night his fellow Framingham State graduate was eliminated.
"The whole experience inspired me," said Nathalia JMag.