Don't Want To Cook? Have Thanksgiving at the Verve in Natick
NATICK – This Thanksgiving, Pantry, the signature restaurant located at The VERVE – Crowne Plaza Boston–Natick, will host friends and family for an impressive brunch that will allow the cooks of the group to simply enjoy the company of their loved ones.
From carving the turkey to preparing the dessert spread, even creating special kid-friendly options for the smallest guests, all Thanksgiving Day duties will be handled! Clean up included!
Traditional with a modernized twist, this year's harvest-themed menu is the proud creation of Chef de Cuisine Jim Booth, who specializes in inventive farm-to-plate American fare. His unique approach to this abundant feast includes mouthwatering dishes like Creamy Butternut Squash Soup, sprinkled with toasted pumpkin seeds; Maple-Brined Turkey, laced with apple-sausage stuffing, fig-port wine chutney, and cider-giblet gravy; Five-Spiced Maple-Glazed Ham; and Cape Cod Dusted Salmon, sided by crisp, buttered green beans and heirloom cherry tomatoes.
The buffet is on Thanksgiving day, Nov. 24 from 11 a.m. to 3 p.m.
The cost is $42 per adult; $25 per child (4-12 years-of-age); complimentary for children under the age of 3 (excludes tax and gratuity)
To make a reservation, please call 508.416.1352 or visit Opentable.com.
Boasting a variety of savory soups, farm-fresh crudités, a mashed potato bar, and rich desserts, Pantry's Thanksgiving Day menu will be served as follows:
 Soups:
Turkey-Chorizo Soup
Chickpeas, broccoli rabe
Fall Butternut Squash Soup
Green Market Farmer Crudités:
Assorted Grilled Spring Vegetables
Pickled Cucumbers, Marinated Artichokes, Pita Chips
Collard Green Dip, Roasted-Garlic Hummus
Salad Bar:
 (Toppings) Dried Cherries, Golden Raisins, Hazelnuts, Roasted Sweet Potato, Candied Pecans, Red Peppers, Cucumber, Charred Corn, Sliced Tomato, Blue Cheese Crumbles, Onion, Bacon
(Dressings)  Balsamic, Ranch, 1000 Island, Oil and Vinegar
Raw Bar: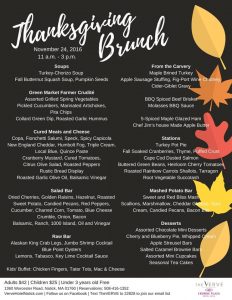 Alaskan King Crab Legs, Jumbo Shrimp Cocktail, Blue Point Oysters
From the Carvery:
Maple-Brined Turkey – apple-sausage stuffing, fig-port wine chutney, cider-giblet gravy
BBQ-Spiced Beef Brisket – molasses BBQ sauce
Five-Spiced Maple-Glazed Ham – Chef Jim's house-made apple butter
Stations:
Turkey Pot Pie – fall-soaked cranberries, thyme, puffed crust
Cape Cod Dusted Salmon – buttered green beans, heirloom cherry tomatoes
Roasted Rainbow Carrots – with shallots and tarragon
 Root Vegetable Succotash
Mashed Potato Bar:
Sweet and Red Bliss Mashed Potatoes – scallions, marshmallows, cheddar cheese, sour cream, candied pecans, bacon bits
Desserts:
Assorted Chocolate Mini Desserts
Cherry Pie
 Blueberry Pie
Apple Streusel Bars
Salted Caramel Brownie Bars
Assorted Mini Cupcakes
Seasonal Tea Cakes
Kids Buffet:
Chicken Fingers, Tater Tots, Mac and Cheese