MassBay Student Selected to Present LGBT Paper at National Conference
WELLESLEY – MassBay Community College Liberal Arts major Charley Haskins of Southborough is the only community college student this year to have his paper selected to present at the 39th Annual Conference of the Organization for the Study of Communication, Language, and Gender (OSCLG) in Oak Park, Illinois . This particular conference is focused on transgressing from popular cultural norms that extinguish activist, feminist, and queer voices.
The Organization invites academics and artist to speak up about the way things were, what has changed, and what we can do to create better futures for ourselves and generations to follow, as well as to talk about subjects that are often overlooked, disregarded, or deemed taboo in our society.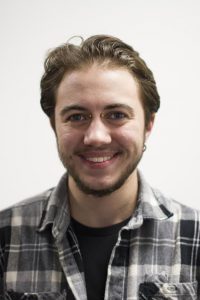 Haskins who wrote a paper on 'Transcending Labels' for his Intercultural Communication course with Dr. Debbie London and was encouraged to submit his paper to the OSCLG for consideration for this year's conference.
His paper was accepted and he will be presenting at the 2016 National Conference being held in October in Chicago and co-hosted this year by Dominican University and Northern Illinois University. Haskins will be part of an international panel entitled, Gender, Language, Discourse, and Social Interaction along with scholars representing Jagiellonian University, University of Louisville, Purdue University, and Denison University.
"Having Charley, or any student, submit a paper at such an early stage in one's academic journey is not at all usual," said Dr. London. "For a community college student paper to not only be submitted, but accepted blindly into a conference of this caliber is a rare occurrence. Charley wasn't even sure what I meant when I asked him if he'd thought of submitting the paper. Most scholars outside of upper level undergraduate and graduate institutions aren't even aware of how major academic conferences work. I'm pretty sure Charley is still in disbelief over his accomplishment. This is a huge step forward in his academic journey as well as it being a great reflection for MassBay."
'Transcending Labels' explores the ways in which we view, categorize, and communicate about gender, sex, and sexuality.
The paper discusses the scope of the Lesbian, Gay, Bisexual and Transgender (LGBT) community, examining the use of the term LGBT and consider the eradication of labels that minimizes marginalized groups of people. In exploring the diversity of the culture, more than 40 individuals were invited to participate in a questionnaire based around self-identification, and the ways people label themselves.
"Presenting at the OSCLG Conference means that I will get to share ideas about gender, sex, and sexuality that are not often talked about," said Haskins. "I will share the words of others that wouldn't otherwise be heard, and I will make my third public speech about gender since the start of my communication studies. I am very proud to be a new member to the Organization for the Study of Communication, Language, and Gender and I am anxious to share this experience with my family."
MassBay Professor and Chair of Communication Studies Debbie London will also attend the conference and will be chairing a panel on Feminist Pedagogy.