TRAFFIC ALERT: Central Street Closed For Serious Crash; Medical Helicopter Requested
UPDATED at 5:10 p.m. Central Street has re-opened. Originally posted at 4:33 p.m. 
***
FRAMINGHAM – A portion of Central Street between the Wickford Road Bridge and Summer Street is closed after a multi-car crash.
The crash happened after 4 p.m. today, August 30, near the Mass Pike overpass.
Three ambulances and and a medical helicopter has been requested. It is expected to land at Massachusetts State Police headquarters.
Motorists are being detour to the Wickford Road bridge.
Source will update when we have more details.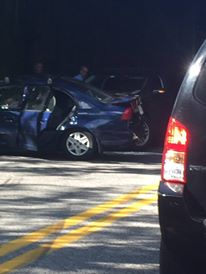 Photos by a Framingham Source reader.